This product is listed here: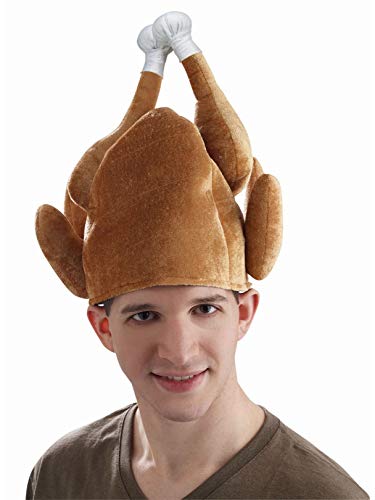 Forum Novelties Roasted Turkey Hat for Adults
Whether you are heading to an informal family Thanksgiving dinner, or a fancy one at your friend's house, which will probably include lots of celebration, you shouldn't show up empty-handed.
One, because you were brought up well not to show up without a little treat for the host and secondly because you know the host has spent hours cooking and preparing all kinds of dishes including the turkey!
However, a Thanksgiving gift doesn't have to dent your pockets, and neither does it have to be big or fancy. All you need is something that brings a smile to your host's face and creates great memories.
Remember, this is a time to be grateful and show our family and friends that we are thankful to have them in our lives.
This roasted turkey hat by Forum Novelties will have family and friends enjoying and laughing their hearts out.
Detailed information about Forum Novelties Roasted Turkey Hat for Adults
This gift will not only show them that care for them but one that will also bring everyone together. In that spirit, we believe a bit of laughter will lighten up the mood and have everyone talking.
How funny is it to welcome your guests in your home with a turkey-shaped hat? We believe it's absolutely hilarious more so because turkeys are a staple feast at Thanksgiving dinner.
So while it's being served on the table, someone will be walking around with a turkey on their head. Have your host wear this to subtly remind them that you all expect a turkey feast later on your table!
This hat is designed for a universal fit, and one size fits most adults and teens included. Its lightweight and fun to wear while preparing a Thanksgiving meal.
WHY WE LIKE IT?
A fun hat shaped like a roasted turkey
Well-structured to fit and sit perfectly over the head
One size fits most
Easy to clean
WHY WE dont LIKE IT?
None
What we love about this product
Not only is this hat fun to wear, but it's equally comfortable and stays in place. It's made of 100% polyester material and stuffed with fabric to make it sturdy enough to stand upright over the head.