This product is listed here: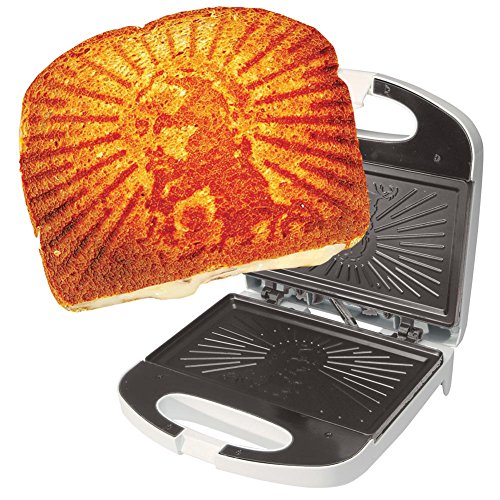 The Grilled Cheesus Sandwich Press – Jesus in Toast Form
When it comes to grilled cheese, we think it is safe to say that it is a staple in an American family's home. It is simple to make yet bursting with cheesiness and flavor brought to you by bread toasted to your preference and any type of cheese you like.
Breakfast or snack time has never been easier since the inception of the famous sandwich, so much so that it rises up the ranks to achieve a deity-type status.
This must be what the creators of the Grilled Cheesus sandwich press had in mind when they created it. This sandwich press would make one amazing quirky gift for sure!
Detailed information about The Grilled Cheesus Sandwich Press – Jesus in Toast Form
It will feature a profile view of Jesus with rays along with his head which, according to the creators, evenly distributes heat so that you will have the blessing of a perfect toast every single time.
Not only that, but the plates are also non-stick so you do not have to worry about having a part of your grilled cheese sandwich stuck on your maker.
Additionally, the design of the toaster is almost completely conventional besides the quirky appearance that comes from the inside!
WHY WE LIKE IT?
A kitschy addition to anyone's kitchen
Quirky housewarming gift or for college students who are living in a dorm
A portion of the sales goes to the creator's charity of choice that helps do good deeds worldwide
Pretty good price range for a sandwich press
WHY WE dont LIKE IT?
Might be a bit offensive for some people
What we love about this product
An obvious pun to Jesus, the Grilled Cheesus sandwich press creates one of the famous images depicting Him when you use it to create your favorite sandwich.