This product is listed here: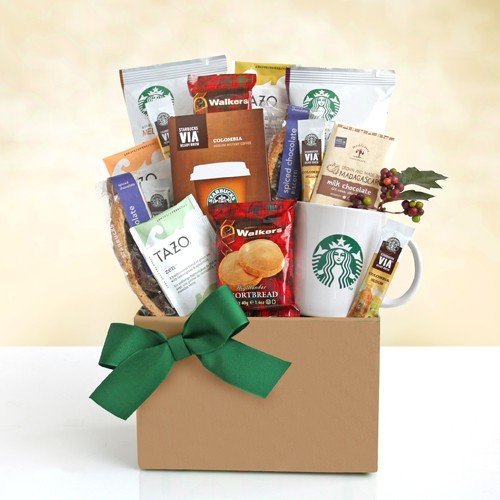 Starbucks Gourmet Fall Thanksgiving Gift Basket
Coffee and tea lovers, get the perfect package this fall with the Starbucks Gourmet Fall Thanksgiving Gift Basket!
Perfect for any Starbucks lover out there, this basket comes complete with an assortment of your favorite Starbucks goodies all in one neat and convenient package.
Get your coffee and tea fix in the comfort of your home while still enjoying the premium quality and taste that Starbucks provides.
Get the rich textures and flavors that Starbucks premium roasts are known for or the intricacies and fullness of Starbucks teas in your very own Starbucks mug.
Detailed information about Starbucks Gourmet Fall Thanksgiving Gift Basket
Enjoy some of your favorite Starbucks treats with your coffee or tea as well. Be they biscotti, shortbread fingers, shortbread highlanders, or TCHO chocolate bar squares, this package has got them all.
This package includes the following items:
One (1) Starbucks mug (in white sporting the Starbucks logo on the front)
Two (2) assorted 2.5 ounces Starbucks coffees
Three (3) assorted Starbucks Tazo teabags
One (1) 1.4 ounce Starbucks VIA coffee
Two (2) Starbucks biscotti
One (1) Shortbread fingers
One (1) Shortbread highlander
Three (3) TCHO chocolate bar squares
WHY WE LIKE IT?
Well stocked package with many of your Starbucks favorites
The assortment of items in this package means that there's something for everyone; you're bound to love at least one of these items if not all of them
You can be assured of the quality of the items as they come from Starbucks, a world leader in the coffee and tea industry
Easy to give as a gift as it is already conveniently packaged in a gift basket
WHY WE dont LIKE IT?
None
What we love about this product
The whole package comes in a natural-colored kraft box wrapped in clear plastic and tied neatly and presentably with a bow – perfect for giving away as a gift.