This product is listed here: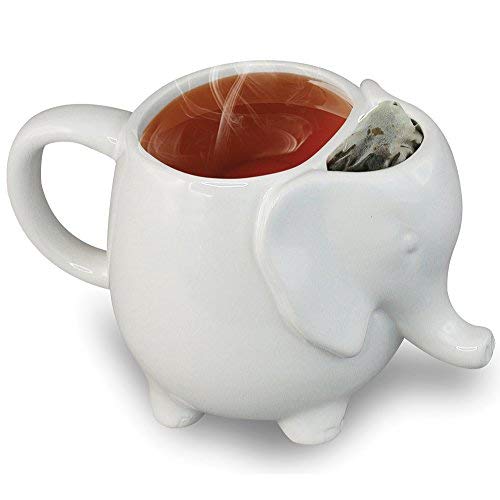 Volar Ideas 15oz Elephant Tea Mug
Here is a wonderfully quirky gift for the tea lover in your life. If they are animal lovers and particularly love elephants, then you might score big with this 15 oz. elephant tea mug by Volar Ideas.
You can give this uniquely shaped cup as a gift on its own or add it to a rainy day gift basket with a couple of goodies such as loose leaf tea packets and perhaps a book.
Whichever way you choose to gift this cup, it will without a doubt put a smile on recipient's face every morning when they wrap their hands around it as they sip tea from it.
Detailed information about Volar Ideas 15oz Elephant Tea Mug
The idea behind this design is quite adorable and practical. You don't have to throw away used tea bags after having your cup of tea. Instead, you can store the used tea bag for another cup of tea later in the day.
Above all, this is a quality animal inspired mug made of high-quality ceramic. It is well sculptured to take the shape of an elephant, complete with the head as the tea bag holder spot and the tail which acts as the handle of the cup.
It features a brilliant and striking paint job which vividly incorporates the curves to bring out the exact shape of an elephant.
The seller recommends handwashing only to preserve the lovely finish and the curves of the mug.
However, it doesn't sacrifice on its practicality. This mug is incredibly capacious and can hold 15 ounces of your favorite drink.
WHY WE LIKE IT?
Uniquely sculptured to take the shape of an elephant
It has an extra spot for holding a used tea bag
Made of quality and high heat resistant ceramic
The curved design keeps the tea warm for longer
WHY WE dont LIKE IT?
It's not dishwasher safe
What we love about this product
This is a uniquely shaped cup with a practical concept. It has a small section at the edge that serves as a tea bag holder which holds the tea bag as you continue sipping your tea.
It stops the teabag from steeping further after you have achieved the best concentration for your tea.