This product is listed here: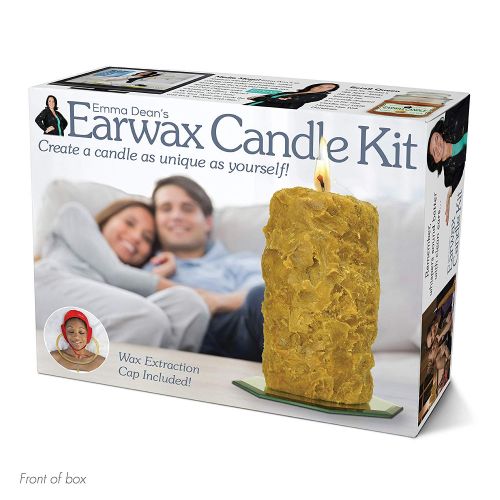 Prank Pack Earwax Candle Kit Gift Box
Need a fun and seriously hysterical way to wrap a gift? This prank box by Prank-O will add a whole new layer to the gift at hand, the gift of laughter. It will also have the giftee seriously disgusted and worrying about their choice in friends. So, no matter how you slice it, this gift box is a winner.
Imagine someone attempting to tactfully manage to open this gift without having total disgust on their face! It will be a true test of how well they can hide their emotions.
Detailed information about Prank Pack Earwax Candle Kit Gift Box
Imagine the look on the giftee's face when they unwrap this disgusting box. One look at the pictures and detailed description of the fictitious product and they may turn green with nausea.
They will certainly be relieved when they open up the box only to find the normal present inside. Whew!
The intricate graphics and gruesomely detailed description on this box by Prank-O make it one of the most believable prank items available on the market.
Every detail has been thought of from the realistic pictures of the earwax catchment system with a detailed description of how to extract the wax, to what can be done with this precious earwax once you have collected it – think earwax candle Christmas gifts for the entire family.
WHY WE LIKE IT?
Just wrap the actual gift inside of this realistic looking earwax candle prank box and let the laughter roll
The kit looks completely authentic and includes detailed descriptions of the product and how it works
Gift box measures 11.2 by 9 by 3.25 inches and is 100% recyclable cardboard paper
WHY WE dont LIKE IT?
None
What we love about this product
This year give the gift of amusement and fun, not to mention a bit of nausea. Just place the real present inside of this empty box and it will be certain to get any party started with lots of laughter.