This product is listed here: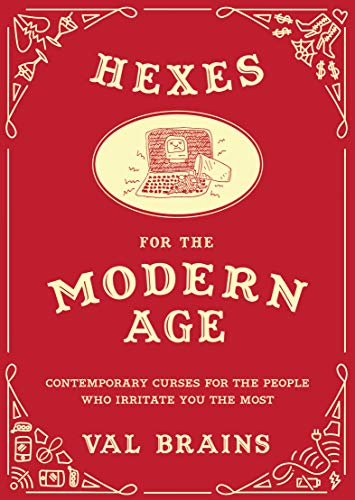 Hexes for the Modern Age: Contemporary Curses for the People Who Irritate You the Most 
We all have a world-class weirdo in our circle of friends or family members. These are the kind of people we know would delight in receiving unusual gifts and weirdly get a brilliant feeling every time they unwrap the box to find it's something quirky. And so, if you have such a person in your gift lists, we are confident that they will be thrilled to receive this quirky book titled Hexes For The Modern Age.
This is a very creative selection, witty and obviously hilarious. Each page is full of humor and will have the reader laughing out loudly by themselves. If anyone thought they were pros when it comes to hexing, reading this book will make them discover they have a lot to learn. This book introduces the reader to a whole new host of better contemporary curses well calibrated to sound wickedly positive.
Detailed information about Hexes for the Modern Age: Contemporary Curses for the People Who Irritate You the Most 
The book is insightful and funny and has just the right curses for the people who have a way of irritating you and your friends. It's true that modern times bring the worst out of some people. This book gives the reader the most appropriate hexes to use when faced with annoying and unpleasant situations.
The author has conveniently categorized the hexes to suit different situations including traffic, love, work, weddings, roommates and so on. It's full of the most embarrassing, shame-inducing and debilitating curses and spells that will help one inflict discomfort.
WHY WE LIKE IT?
The book is well written; full of humor with hilarious illustrations, and captions
Well organized into categories with appropriate hexes for each situation
Available in hardcover and Kindle format
WHY WE dont LIKE IT?
None
What we love about this product
This book is super entertaining and delightfully wicked, but it's also surprisingly relatable. It has a collection of about 120 spells meant to terrorize all the worst kinds of people with the intention of inflicting revenge. In this case, we can safely say revenge is best served with a bunch of hilarious curses found in this book.