This product is listed here: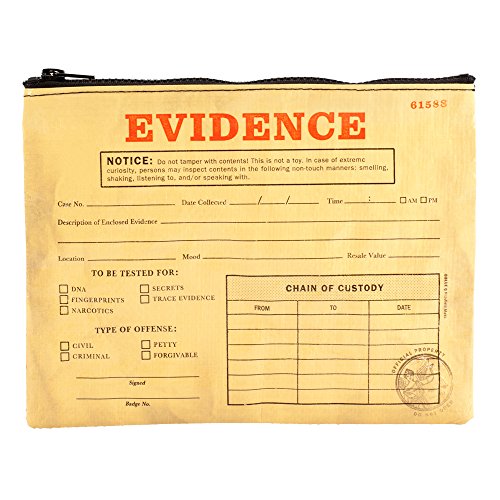 Blue Q Evidence Zipper Pouch
This unusual, unique, quirky Blue Q evidence zipper pouch will make an excellent gift idea to anyone who is into fun weird stuff. Are you tired of buying the same old gifts and stocking stuffers for loved ones and friends? Make a difference for whatever occasion with this super unique pouch, and you can be sure whoever receives it will get a kick out of it.
This is an excellently sized pouch suitable for toting several personal stuff. It's functional and stylish, reusable and artfully designed with unique patterns that are outrightly outstanding and eye-catching. It has a plethora of playful fun prints and designs which make it uniquely beautiful and absolutely adorable.
Detailed information about Blue Q Evidence Zipper Pouch
It is made of recycled polypropylene. It's sturdy and durable and will certainly last the user years of use without falling apart. It is a great alternative to reusable bags and adds a bit of sustainable flair when presenting gifts as the best reusable gift wrap.
Quality is not the only thing that stands out with a stylish pouch. It's surprisingly roomy inside with enough space to fit a variety of stuff and yet still small enough to fit into a handbag, a purse or a backpack.
WHY WE LIKE IT?
A quality pouch made post-consumer recycled materials
Features unique prints and fun designs
Strong and durable
Roomy enough to fit several items
It's water resistant
Reusable
It's stylish and trendy
WHY WE dont LIKE IT?
None
What we love about this product
The prints on this evidence bag are absolutely fantastic. You can be sure that whoever receives it will always get tons of compliments every time they pull out the pouch to fetch something out of it.