This product is listed here: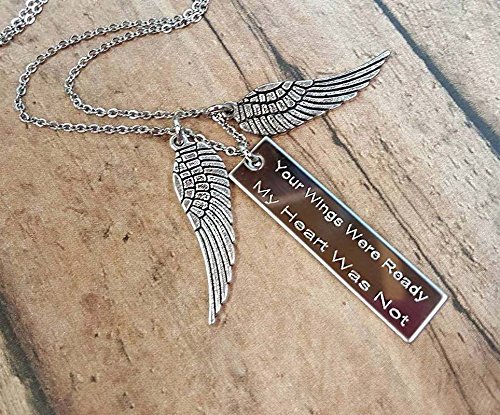 "Your Wings Were Ready My Heart Was Not" Necklace
Losing a loved is quite a difficult experience and dealing with it is even harder. You may try to comfort the person the best way you know, but often, the right words fail us. What you actually need is to offer them support with a remembrance gift that will last for a long time.
Don't just give flowers, for they wilt, get creative and look for a gift that will not only comfort, but it will also celebrate and honor a life lost. This stainless-steel necklace will make an excellent memorial gift to the special person in your life who has lost a loved one. It will always be a comforting reminder to them and will always stay close to their heart.
Detailed information about "Your Wings Were Ready My Heart Was Not" Necklace
This necklace will put your feelings and emotions into words. The attached bar which measures approximately 2" tall is engraved with a lovely message which reads "Your Wings Were Ready My Heart Was Not." A close to heart message that will always offer consolation to the bereaved.
This lovely charm is designed with two wings to accompany the message. The wings add a sense of peace to the entire piece and are delicately attached to the long chain. This is a grief necklace which is meant to celebrate and honor a life lost.
WHY WE LIKE IT?
A quality necklace made from stainless steel
The bar carries a special message to comfort the bereaved person
A lasting memorial necklace for remembrance  of a life lost
WHY WE dont LIKE IT?
None
What we love about this product
When people lose a loved one, they always want to keep a piece of memory that will always assure and remind them that even though their loved ones are departed, their presence in the lives will always be felt. This necklace will not only be a remembrance piece, but it will also provide consolation and peace. It will be received with deep appreciation as a memorial gift.