This product is listed here: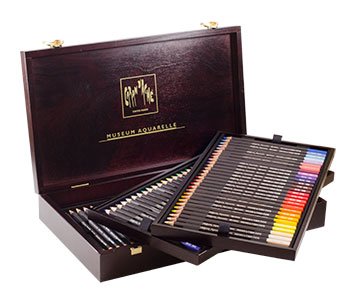 Caran D'ache Museum Aquarelle Watercolor Pencils – 72 Colors in a Wood Box
If there is an artist on your gift list this holiday season this collection of beautiful watercolor pencils by Caran D'ache is this perfect choice for a thoughtful and elegant gift. This set includes a rainbow of 72 colors and 80 pencils (there are duplicates of some of the more heavily used colors as well as sketching pencils) attractively boxed and ready for the giving.
Detailed information about Caran D'ache Museum Aquarelle Watercolor Pencils – 72 Colors in a Wood Box
Caran D'ache offers up a beautiful array of the finest watercolor artist-grade pencils available on the market. Seventy-two prismatic and deeply pigmented colors that are sure to hold a special place in any artists studio as well as their heart. This set is handsomely packaged in a beautiful wooden box with trays to keep these gorgeous watercolor pencils organized and secure. Along with the lovely colored pencils themselves, there are also four high-quality sketching pencils included in this set.
The leads of the watercolor pencils are thick and so easy to work with. The pigments in these Caran D'ache Museum Aquarelle pencils are of better quality and their lightfast rating is higher than lesser watercolor pencils, allowing for a vivid and rich finished product.
WHY WE LIKE IT?
Seventy-two rich and beautiful watercolor colors with eighty high-quality pencils
Beautifully packaged in a wooden gift box
These are high-quality pencils for the discriminating artist
WHY WE dont LIKE IT?
none
What we love about this product
When the watercolors are activated with water, the pigments dissolve completely, leaving behind just the delicate softness that only a watercolor can bring.