This product is listed here: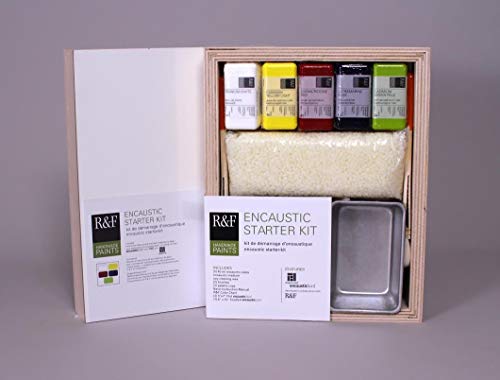 R&F Encaustic Starter Kit: Great Gift for Creative Minds
Getting a gift for an artist in your life can be a daunting task. This bunch is always hands-on and quite creative and anything you think of gifting them they can either make it, paint it or create. Their minds function different and what you buy for them might not be that obvious.
However, if you are determined, the task is achievable, and with a bit of extra effort, you will certainly find something that will appeal to their creative and artistic nature and make their talent and job more fun and comfortable. Lucky for you, we have the perfect gift idea for you that will make your gift hunting spree much easier.
Detailed information about R&F Encaustic Starter Kit: Great Gift for Creative Minds
The R & F Encaustic Starter kit 1941, is absolutely fantastic and an excellent deal. This will certainly be a one-of-a-kind gift that will be received with lots of appreciation and gratitude. If you thought impressing an artist in your life is hard, then this kit will undoubtedly prove you wrong.
Inside the kit, the recipient will find encaustic paints in five different vivid colors packed into 40ml sized cakes. The colors include cadmium yellow light, titanium white, ultramarine blue, quinacridone red and cadmium green pale.
It also comes with cradled encaustic board from Ampersand; two panels of 5x7 inches and one 8x10inches. Other items included in this encaustic kit include soy wax which will be used for cleaning up, encaustic medium, 2 brushes, and palette cups.
WHY WE LIKE IT?
The ultimate encaustic starter kit with everything needed to start encaustic painting
Comes with an instruction manual to help start the journey
A variety of colors to work with
WHY WE dont LIKE IT?
None
What we love about this product
This kit is a perfect tool of-trade that will an artist to be confident and delve into encaustic painting without holding back. It comes packed with everything needed to get you started, complete with simple instructions to make sure you start the journey, learn and enjoy at while at it.