This product is listed here: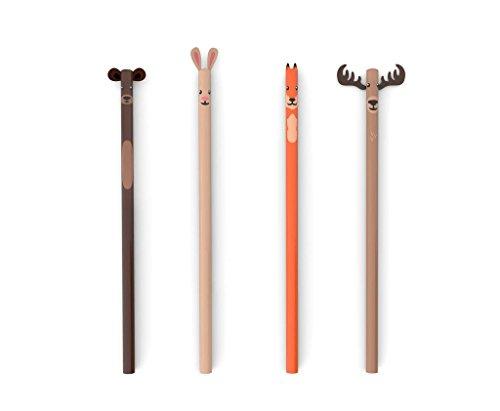 Kikkerland Woodland Pencils
They say that physically writing things down makes them easier to remember but with all of todays technology in our pockets in can be hard to find a pen or pencil. Which is why you really can't go wrong with a gift of pencils! It seems like a pain and boring gift but with Kikkerland's Woodland Pencils Set, it's anything but that. Designed by FormNation the pencil set comes with four pencils each with a different animal at the top. They measure 6.8 x .8 x .2 in. and are the most adorable thing to write with. The tops each have distinguishing marks so that they look like a bear, a bunny, a fox and an elf. They even have little ears sticking out the sides to make them more realistic! The outside of each pencil is colored to match the fur of the animal but the pencil itself is gray graphite.
Detailed information about Kikkerland Woodland Pencils
It's perfect for every age because everyone can find some use for a pencil! Children can use them to do homework or create and the little animals make them so fun to use. And adults are always looking through their bags to find something to write with. These creative pencils are easy to find and add some fun to any work they need to do. Get them for friends or family that love to write or draw or even get it for a friend that is always looking for something to write with. Whatever the case, these pencils are a unique way to give something practical but also fun!