This product is listed here: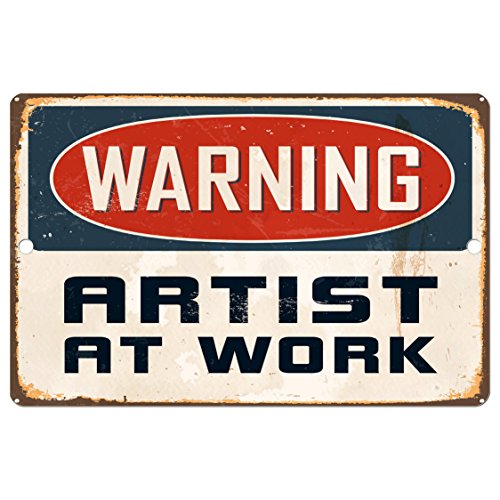 Angel Indigo Warning Artist at Work Decorative Sign
If you have an artist in the family you probably know that they usually don't want to be disturbed while producing their latest masterpiece. It's no good taking the vacuum cleaner into their studio to just give the room a quick clean, you will be told where to get off!
For that certain someone in your life, that may be a budding or even a professional artist, why not buy them this wonderful little gift to hang on the studio door?
ou have an artist in the family you know they like to be left alone while they are making an art piece. Check out this perfect sign that they'll love.
Detailed information about Angel Indigo Warning Artist at Work Decorative Sign
The sign itself is made from aluminium and the printing depicts the logo "Warning. Artist at Work" together with fake rust coloured patches to give the impression of age. You know the type of sign I am talking about, there are many of them around that are designed to be installed in kitchens which have food adverts from the 1950s and 1960s.
Well, this one is meant to be installed at the entrance to an artist's studio. It looks just like the 1950s or 1960s style adverts and even has some printed rust patches around the corners. Don't worry about the print fading in the sunshine however because each one has an ultra violet protective coating for just that purpose.
The metal plaque is high gloss and is suitable for erecting both indoors or outdoors so can be used outside the door of a detached studio away from the house as well as those studios that are indoors.
WHY WE LIKE IT?
Made from aluminium so guaranteed not to rust
Has the look and feel of the food adverts from the 1950s and 1960s
The bright and colourful printing is covered with a UV protective film to stop fading
WHY WE dont LIKE IT?
Many customer reviewers hoped the sign was larger than the 8" x 4" dimensions
What we love about this product
Angel Indigo produces this cute little sign warning everyone that here is the domain of an artist and that you should enter at their own peril. When we say it is a cute little sign we mean just that.