This product is listed here: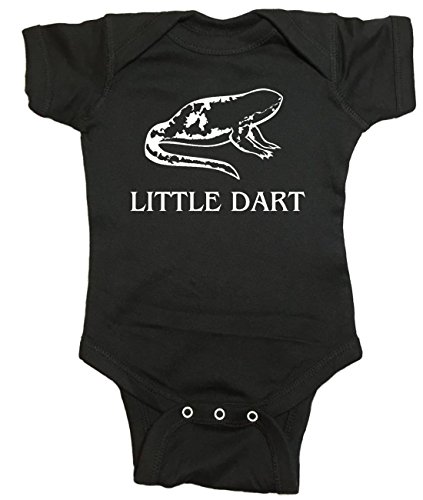 Stranger Things Baby Onesie – Little Dart Bodysuit
If you have watched Stranger Things season 2, you must be missing the little pet Dart from Upside Down. The little creature that Dustin temporarily kept as a pet before his friends discovered he was a species of Demogorgon. A lot of things happened in Hawkins, and it's hard to forget this little creature that Dustin chose to name Dart.
Are you are a fan of the show? Or perhaps you know a mom who is crazy about this Netflix original series, and she happens to be expecting a new bundle of joy in a few coming months? Here is something that will make an excellent gift for her during her baby shower and a fun gift for the newborn.
Detailed information about Stranger Things Baby Onesie – Little Dart Bodysuit
The Stranger Things inspired onesie is made of 100% combed ringspun cotton material with baby riblock seams to make it more comfortable for the baby. As expected, the cotton material is soft and has a nice feel on the skin to keep the baby comfy as much as possible.
This handmade bodysuit is designed with reinforced three-snap closure to close up and open up easily when changing the baby. The shoulders, neck, and sleeves including leg openings feature double-needle binding to make sure that the apparel is completely comfortable on baby's sensitive skin.
It's unisex, and any little baby can adorably wear it and represent Dart in style. This clothing is classified as delicate, and the label says it's a machine, wash cold and tumble dry medium. If bleaching is needed, it should be non-chlorine, and it should not be ironed or added decoration and other customizations.
WHY WE LIKE IT?
Made of cotton material
Soft and comfortable on baby's skin
Available in different sizes and colors
It's unisex
Machine washable
WHY WE dont LIKE IT?
None
What we love about this product
This Little Dart onesie from NorthStar Tees will certainly look adorable on a baby. Who knows, the baby might grow up to appreciate the thrill of this amazing show. Meanwhile, it would be great to watch them rock this cute bodysuit and look like little geeks.