This product is listed here: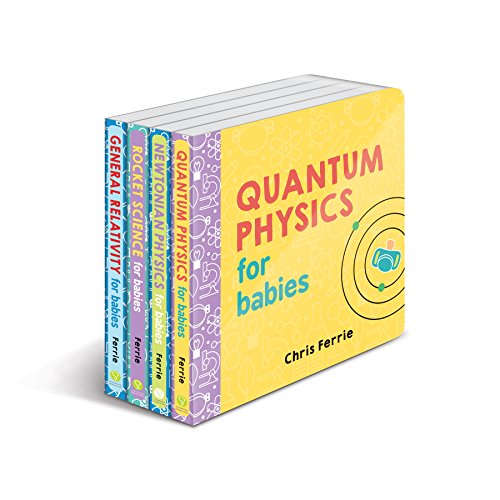 Baby University Board Book Set: A Science for Toddlers Board Book Set
If you want to get your child (or someone else's child) into science from a young age, this collection of Baby University books is the perfect item! Covering a variety of science topics, these books take complicated subjects and make them easier to understand. It's a great way to teach any child about science and get them excited about these topics and about learning in general! With exciting bright pictures, these books are sure to grab the attention of any child.
Specs: This collection is a 4 book set all focused on science. The 4 books included are: Quantum Physics for Babies, Rocket Science for Babies, General Relativity for Babies, and Newtonian Physics for Babies. Each book is written by experts in the particular fields but made totally understandable for children!
Why it's a great gift: This is a great gift for any parents who work in the science field or have a love for it and want to pass that love onto their children! This is a great set of books to add to any collection and is a set that you can likely use for years to come. Newborns can enjoy the colors of the books, while older children can use it to help with reading and to get a great basic understanding of different scientific principles!
What we like: We really like that the authors took these very complex concepts and simplified them to a point that a child can truly understand them. This is a great way to introduce science to a child and we think that this could definitely have an impact on if a child decides to go into a STEM field when they get older!
What we don't like: While the illustrations in the book do feature nice, bright colors, the illustrations themselves are not the most engaging and may not do enough to hold the attention of very young children.
WHY WE LIKE IT?
4 science books
Complex concepts simplified for children
Bright and colored illustrations
WHY WE dont LIKE IT?
Illustrations are not as engaging as we hoped for