This product is listed here: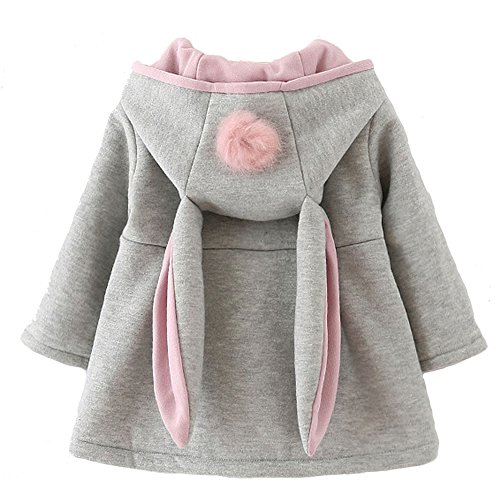 Urtrend Baby Girl's Fall Winter Coat
When you take your toddler out for a walk in the cold months of the year you must ensure that you keep her protected from the cold. That means she needs a good warm coat or jacket complete with a snuggly hood designed to keep her ears and head protected.
The cute coat from Urtrend ticks all the boxes. The coat comes in three lovely colors: gray, pink and red. It is slightly flared at the waist so that it fits snugly around the little one's body while leaving her legs free to run. It has a button closure with two pompoms looped over the front buttons!
Detailed information about Urtrend Baby Girl's Fall Winter Coat
The coat itself is made from a cotton blend and is very soft and warm without having a fleece lining. Sizes range from 6 months all the way up to 3 years.
Combine this warm and cozy jacket with some thick warm leggings and a warm sweater and your little girl will be as snug as a bug in a rug and will love to run around in the park or in the garden chasing a ball.
The manufacturer recommends that the coat is hand washed or machine washed in cold water, probably to keep the dye intact.
WHY WE LIKE IT?
Made from a cotton blend fabric but without a fleece liner
Comes in three attractive colors just right for her to play in and look cute too
Comes with a permanently fitted hood with two floppy bunny ears attached
Can be bought in a range of sizes from 6 months up to 3 years
WHY WE dont LIKE IT?
This is a lightweight jacket and not really suitable for winter wear unless the toddler is wearing layers
What we love about this product
The hood is permanently affixed to the coat and has a pompom glued to the front as well as having two large floppy bunny ears so she will really look cute!