This product is listed here: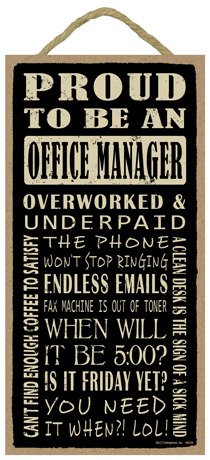 Proud to be an Office Manager – Wood Sign Plaque
We all probably know an office manager or supervisor who reckons they are overworked and underpaid, right? They never stop whining about the deadlines they have to cope with or the terrible coffee in the canteen. Some even keep on moaning about the phone's incessant ringing. Are you too afraid to say anything? After all, they are getting paid for the privilege and it's more than you earn, right? Well here is a special gift for your boss, supervisor or line manager.
Something he or she can hang on the wall and glance at every now and again between meetings, wishing it was 5 o'clock already. The wooden plaque proclaiming all those cliché moans and groans is just what your lovely supervisor needs. It will bring him or her down to earth and make them realize that it isn't only in this company that things always go wrong.
Detailed information about Proud to be an Office Manager – Wood Sign Plaque
This great gag gift for your favorite supervisor is made from MDF board and measures about 5" wide x 10" high x 0.25" thick. It has hanging twine stapled onto the back of the board so that it can be hung on the wall next to the year planner and forecast sheets. On the front of the board, in various fonts are most of the complaints that an office manager finds in his or her work. Because it is made from MDF fibreboard, unfortunately, it can only be used indoors or undercover and must not be exposed to the weather.
This will make a perfect gift for the supervisor or boss who has everything. Does your husband or wife come home from the office and vent frustrations at you? If so then buy one to show that you are on their side but don't really want to hear about it anymore.
WHY WE LIKE IT?
Perfect to hang on the office wall while not taking up too much room
Just what every supervisor needs
Made from MDF fiberboard and guaranteed to make the reader smile
Made in the USA
WHY WE dont LIKE IT?
Not weatherproof and can only be used indoors
What we love about this product
This is an ideal gag gift for all those supervisors who are put upon by the higher management but don't want to answer back.