This product is listed here: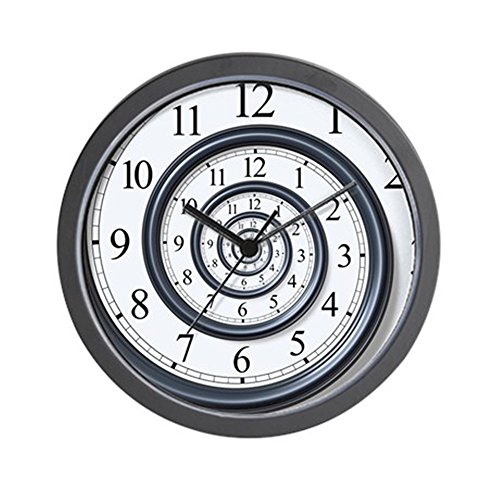 Spiral Face Large Wall Clock by CafePress
Analog clocks can often be so boring. By analogy, we mean the sort with a face showing numbers and two hands which rotate around the face to point to the hour and minute (digital clocks are those whose numbers change).
Having the clock face in the shape of a spiral is possibly something new and unique and at the same time is cool and quirky and just what anyone needs to show that they are different from the usual boring clock owners.
This wall clock from CafePress is an unusual clock decoration that makes you want to keep looking at it for hours on end!
Detailed information about Spiral Face Large Wall Clock by CafePress
It measures approximately 9.5" in diameter and is made with a durable black plastic case together with a clear plastic lens over the face.
It has a quartz movement powered by one AA battery so that it stays on time, all the time, just like a clock should do.
This novel spiral clock keeps perfect time owing to the battery powered quartz movement.
The manufacturer offers a 100% money back guarantee so you will know that if anything is wrong with it, you will have your money returned or be given a replacement.
WHY WE LIKE IT?
Cool and quirky analog clock with a spiral clock face
Has a precise quartz action powered by one small AA battery
This is a novel and unique gift that is practical too
WHY WE dont LIKE IT?
None
What we love about this product
It is the clock face that is different and possibly unique. The spiral decoration makes it look great and probably will form the centerpiece of your room.