This product is listed here: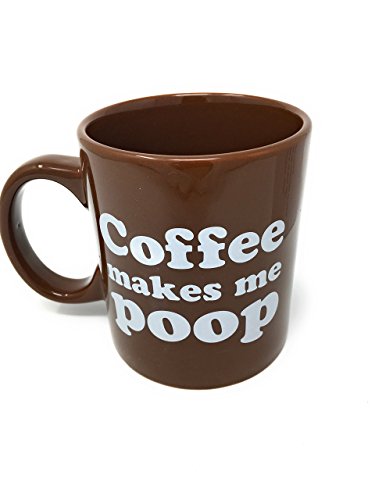 Coffee Makes Me Poop Classic Mug
We bet you never saw one which has this message printed on the mug. It is obvious that the message is from the heart, after all, it is printed on a collectible coffee mug, isn't it?! We are also sure that when you see this incredible message, you or someone very close to you will want one as well.
The coffee mug from Look at These Cups, gives the message that up to now, everyone thought about but no one ever mentioned!
Detailed information about Coffee Makes Me Poop Classic Mug
The mugs are made from durable ceramic and come in two sizes 11oz and 15oz. The manufacturers realized that these days all cups and mugs should be made from microwave and dishwasher safe materials and these lovely mugs are made from just that material with the printing ink to match.
The designs are made using Adobe Photoshop and printed in sublimation ink before being pressed onto the mugs using a professional mug press.
WHY WE LIKE IT?
Strong and durable ceramic mug
Comes in two useful sizes
Microwave and dishwasher safe
WHY WE dont LIKE IT?
None
What we love about this product
When you think about it the message stands out as one of the great truisms of the universe. Why has no one ever talked about this before?!