This product is listed here: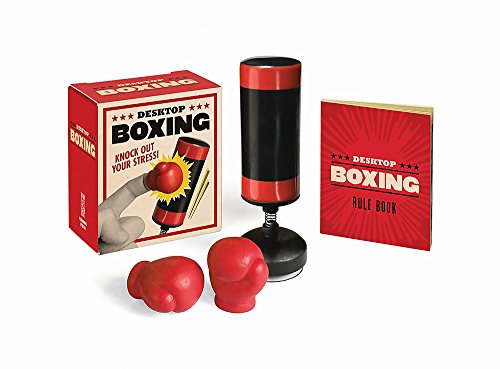 Desktop Boxing: Knock Out Your Stress!
So many stress relieving items have come out over the years, but this mini punching bag may be the best one yet! Perfect to place on your desk, this bag is a great way to take out your frustrations or just to serve as a great conversation starter when people stop by your desk! Complete with mini boxing gloves for your fingers, this is the perfect set for anyone who needs to blow off some steam every once in a while.
Specs: This set comes with the tabletop punching bag that has a suction cup base, two mini boxing gloves, and a small book that shows some finger boxing moves as well as shares some fun boxing trivia. It all comes in a small gift box.
Why it's a great gift: We think that this would make for a great White Elephant or Secret Santa gift at the office. This is the perfect desktop accessory for anyone, especially those who need to blow off some steam. It is just big enough to be able to use it while still being small enough to fit on even the smallest of desks. We wouldn't be surprised if all your coworkers end up fighting over this gift!
What we like: We really love the mini boxing gloves that allow you to 'finger punch' the punching bag, it is such a cute and funny gift that you can actually use if you want to. The trivia in the included booklet is also fun and great for learning something you can share at your next happy hour event.
What we don't like: We do wish this was just a tiny bit bigger, it is great that it is compact but a little bit bigger would be nice so that you could really use it on those super stressful days. The entire box will fit in the palm of your hand for reference.
WHY WE LIKE IT?
The boxing gloves fit your fingers
Trivia booklet included
Fits all desks
WHY WE dont LIKE IT?
Really small items