This product is listed here: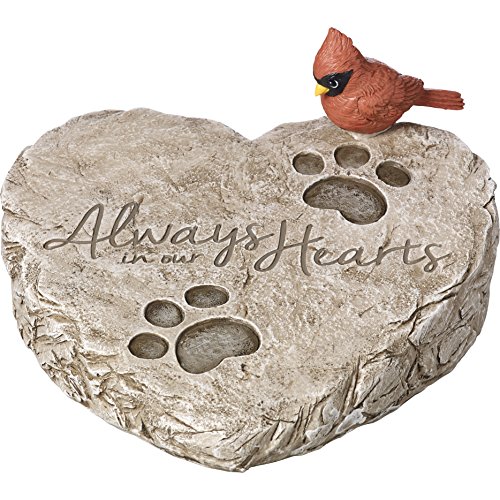 Precious Moments Pet Garden Stone
Sadly, when we have domestic pets, they always seem to pass away after a few years. Most pet owners bury their adored companion in the garden so they can be near to their pet and the environment in which she loved to play and bask in the sun.
This 'Always In Our Hearts' decorative resin garden memorial stone from Precious Moments is the perfect reminder of someone's pet. Why not buy this for your pet loving friend when the time comes to leave their companion? They probably won't be in much of a state to choose a memorial that will totally remind them of their pet, so it is up to you to do it for them. Whether you are buying this for your husband or wife; your mother or father; or even a very close friend, you will be pleased to know that the gift will be appreciated during their feeling of loss.
Detailed information about Precious Moments Pet Garden Stone
The memorial stone is made from resin so you know it will be lightweight, resistant to all kinds of weather and will match the existing stones in your loved one's garden. The stone itself is heart shaped and has the inscription "Always in our Hearts" together with two paw prints molded into its surface. In addition there is a small red cardinal bird perched on the stone to give a hint of color and life.
WHY WE LIKE IT?
This stone is a wonderful reminder of the good times your friend had with their much loved pet
It is made from resin so will easily withstand the rigors of changing weather types and temperatures
The simple, yet thoughtful inscription together with the paw prints tell the reader that this is in memory of a much loved household pet
WHY WE dont LIKE IT?
None
What we love about this product
Wherever this stone is placed it will serve as a reminder of the fun times and love shared between a human and their pet.