This product is listed here: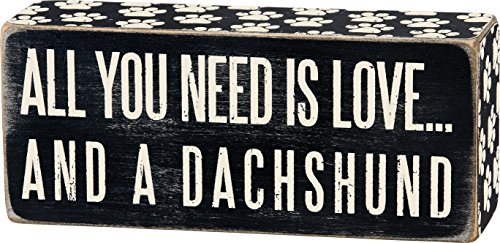 Primitives By Kathy Wooden Box Sign "All You Need Is Love…And A Dachshund"
What would be a better gift to someone who loves wiener dogs than a sign that recognizes these adorable creatures? This wooden Dachshund sign by Primitive By Kathy will be a fantastic gift to dog lovers.
It's time to spread the love and appreciate these low-riding animals, and we can't think of a better way than a sign specially dedicated to them.
If you have a friend or a loved one who adores dachshunds, then this wooden box sign will be a great décor piece addition to their home. It is a sturdy wooden block designed with weathered edges which bring out a classic distressed look. The beautiful rustic appearance gives this sign an authentic look and makes it look fantastic.
Detailed information about Primitives By Kathy Wooden Box Sign "All You Need Is Love…And A Dachshund"
The sign reads "All You Need Is Love…. And A Dachshund." This lovely a sentiment that spreads the for these friendly dogs and appreciates their loveable nature.
To complete the look, it's the paw print pattern around the outer edges which are adorably cute and make this sign all about dog love.
Even though it's little, this wooden sign is eye-catching and will always attract attention and strike a conversation about this lovely dog breed.
WHY WE LIKE IT?
A sturdy wooden sign that spreads the love for dachshunds
It's a lovely décor piece
Well designed with a distressed look and a sentimental message
WHY WE dont LIKE IT?
Smaller than expected
What we love about this product
It's the lovely message displayed in white text against the distressed black background that makes this sign a must-have-item for a dachshund lover.