This product is listed here: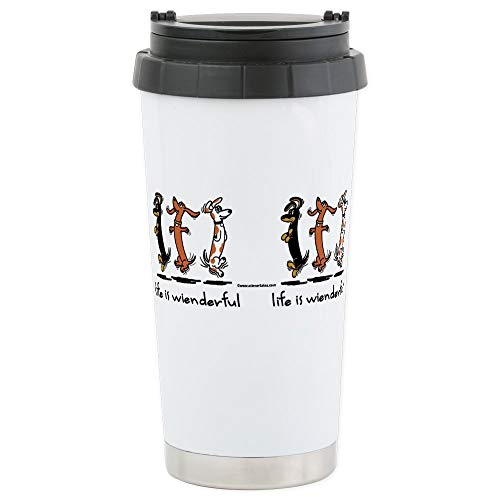 CafePress Stainless Steel Travel Mug – Dachshund Design
Just about everyone likes to drink their coffee 'on the go' and the only way to do this is to have a thermally insulated coffee mug. Whether you drive into work, catch the train or simply walk, a thermally insulated coffee travel mug will be just the job.
If you have one of the travel mugs from CafePress you can leave your coffee untouched for half an hour or even an hour and the beverage inside will still be hot enough to drink.
The fully insulated coffee mug will hold 16oz of either a hot or cold beverage and keep it at the correct temperature for hours. The mug has a double wall stainless steel construction together with a non-spill lid and a carrying handle.
Detailed information about CafePress Stainless Steel Travel Mug – Dachshund Design
It measures about 7.25" high x 3.5" diameter, so will fit most car cup holders and is the correct height to fit under a pod-style coffee maker.
There are other designs you can choose from if dancing dachshunds aren't your scene, but they are all as upbeat as this one.
Because the mug is made from stainless steel you can be sure that there will be no rust or flavor contamination by the metal and the supplier is so sure of the mug's great quality that they offer a 100% money back guarantee and their great customer service makes refunds, returns or replacements so easy to do.
WHY WE LIKE IT?
Made from food grade stainless steel
No tainted flavor or rust marks
Keeps beverages hot or cold for hours
Cute printed design
WHY WE dont LIKE IT?
None
What we love about this product
The design on this travel mug is so upbeat that you will want to shout it to the world. The printing features three cute dachshunds dancing on top of the phrase 'life is wonderful'.