This product is listed here: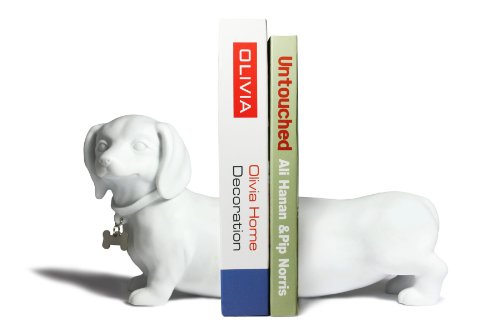 Danya B Dachshund Bookend Set
If you or someone you know is a dog lover, then everything you have will echo that love. A true dog lover will try to decorate their home with items that remind them of their canine friend.
The Dachshund Bookend Set from Danya B is the ideal product to give to a friend or member of your family whose fascination is with dachshunds.
That's correct, those silly looking little wiener dogs, who are actually very intelligent and will guarantee to give their owner complete unconditional love as long as their human gives them a home.
Detailed information about Danya B Dachshund Bookend Set
This dachshund bookend set is made from resin and colored white. The bookend set comprises a white dachshund cut into two pieces, the head end, and the tail end.
All surfaces in contact with your furniture are lined to protect the surfaces from accidental scratches.
Growing the book collection is no problem because the two halves will separate to accommodate as many books as necessary.
WHY WE LIKE IT?
Made from durable and heavy resin
Can be painted if necessary to look like your own dog
Superb bookend gift for all dog lovers
WHY WE dont LIKE IT?
None
What we love about this product
The bookends are heavy enough to hold your books upright without allowing them to fall over. Just move the two halves of the dog apart and slide some favorite books between.