This product is listed here: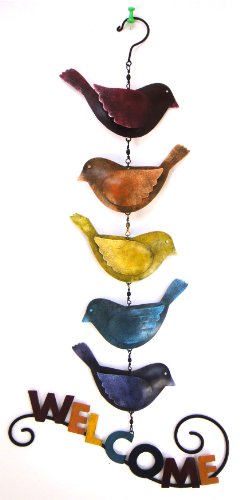 Blue Handworks Welcome Sign – Rainbow Birds
Rather than use words, many people like to place welcome signs next to their front doors to let visitors know they are welcome in the house.
Signs like these can take many forms, some are traditional and formal while others are more informal. If you are welcoming someone into your home then you need to put a little bit of yourself into the message and what better way to do this than to incorporate a fun home theme into the sign.
The 'Welcome Sign, Rainbow Birds' from Blue Handworks puts a little bit of fun into the tired and boring old welcome signs.
Detailed information about Blue Handworks Welcome Sign – Rainbow Birds
Having said that, this WELCOME sign will look just as good indoors as out. As with all artisan crafts, each one is slightly different from any other so you can guarantee that what you receive will be totally unique.
The entire welcome sign measures 10" x 21" x 0.4" at its widest and longest points. These look great hanging on the front door, on the wall or from the porch roof.
Hang them from a tree in the front garden to welcome guests to your home. If these aren't your thing then the same suppliers provide copper colored comic style owls hanging in a similar formation.
Whichever one you choose you can be certain that you will be providing fair paid work for artisans in developing countries.
These make perfect gifts for those who are interested in their garden, enjoy the natural world or like all kinds of birds.
Each one makes a superb piece of wall décor that not only sends a kindly message to all your visitors but also gives a touch of quirky humor to what could otherwise be a serious wall ornament.
WHY WE LIKE IT?
Rustproof colored metal, hanging ornament
Suitable for outside and inside
Shows some cute and quirky, colored metal birds
WHY WE dont LIKE IT?
None
What we love about this product
They consist of a column of artisan-made, hand painted metal birds, hanging from a hook. At the bottom is a beautiful metal scroll with the word 'WELCOME' spelled out in colored letters.
All the metal is powder coated to protect it from the weathering that always starts to corrode outside garden ornaments.