This product is listed here: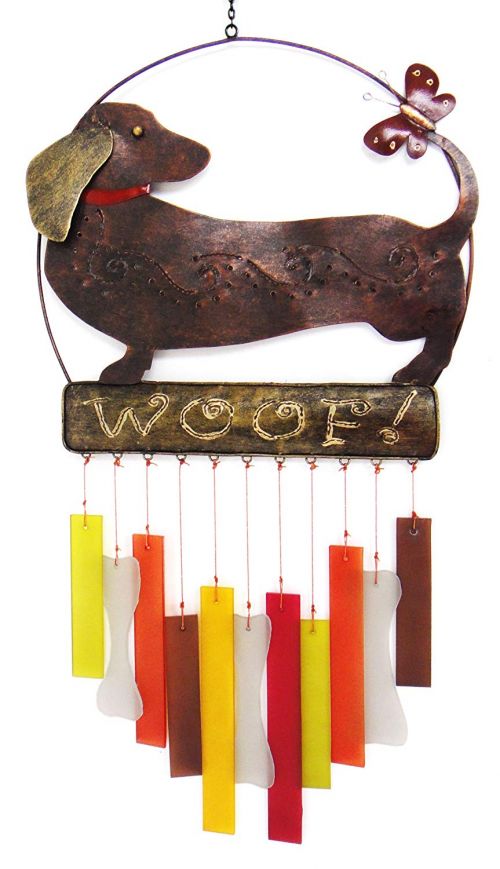 Gift Essentials Dachsie Woof Wind Chime
Dachshunds are arguably one of the most lovable pets among the dog breeds. They are known for their friendly personality and sprung curiosity.
These among many other traits and their unique snuggly look, are some of the reasons why these low-riding dogs are ranked nearly on top of the list of the most popular dog breed and have undoubtedly captured the hearts of many.
We are willing to bet that you have a dachshund or have a family member or a friend who owns one or has several of them roaming freely in the house and or garden. It goes without saying that you will be willing to gift them with an amazing gift that also spreads dachshund love.
This Dachsie Woof Wind Chime by Gift Essential is designed for dog lovers who find their wiener dogs just so irresistible they would be willing to have their presence somewhere in their home just so as to make a doxie statement.
Detailed information about Gift Essentials Dachsie Woof Wind Chime
This wind chime is an outdoor treasure. It will look absolutely stunning in the garden, at the patio, on the deck or wherever spot in your home that needs a bit of dachsie spirit.
After all, wind chimes are believed to cure negative energy, protect against evil spirits, and add positive energy where it's lacking.
We can't think of a more jovial and energized pet than a doxie which also doubles up as a security addition in most homes.
And to complete the setup, it's the sandblasted glass pieces rich in different vibrant colors which include yellow, red, orange and brown.
WHY WE LIKE IT?
Ideal for outdoor and indoor decorations
Made of quality and durable materials
Features a lovely and unique design inspired by nature
WHY WE dont LIKE IT?
None
What we love about this product
It's crafted using durable powder-coated metal, glass, and iron. The sweet little dachshund dog adorably looking at a tiny butterfly on his tail and the word "woof" engraved below the dog adds a lovely enhancement to this unique piece of décor.