This product is listed here: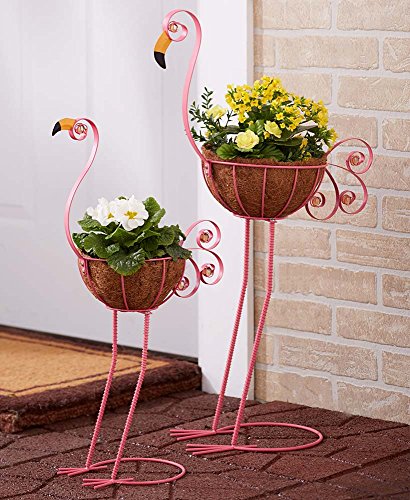 Sets of 2 Bird Planters – Flamingos
Flamingos make a spectacular scene. Next to unicorns, these graceful pink creatures are absolutely adorable and a wonder to look at. It's no wonder that flamingo themed décor pieces and ornaments are all the rage nowadays.
The same way these lovely creatures brighten up the shores and create a fantastic view, it's the same way pink flamingo décor will add a whimsical and fun ambiance to any space or room.
And so when it comes to outdoor décor, nothing will look as fanciful as this set of 2 flamingo planters by LTD perched on the front lawn, patio, or at the entrance of a deck.
This set will be a perfect flamingo gift to give to the newest homeowner in your life as a housewarming gift. An excellent gift for your mom on Mother's Day or to anyone else with a lovely garden that needs a bit of sprucing up.
Detailed information about Sets of 2 Bird Planters – Flamingos
These two bird planters with a flamingo theme will instantly transform the space and become the centerpiece of your garden.
They feature a bright pink color, which is a perfect reflection of blue skies, warmer temperatures, and everything good enough to lure anyone to go outside.
Go ahead and surprise the gardener in your life with this cute set of bird planters, and they will, without a doubt, love the view of their newly decorated backyard.
They are made of metal material and consist of a coconut fiber basket with glass bead detailing around the eye and on the tail.
These metal bird planters create an appealing floral display. The pink color adds a touch of fun and sophisticated style to the outdoor space.
They are not only inviting, but they also create an easygoing escape-to kind of environment and make a beautiful decorative element.
WHY WE LIKE IT?
Unique outdoor planters with a pink flamingo theme
Easy to assemble
Available in two different sizes
Aesthetically appealing
WHY WE dont LIKE IT?
None
What we love about this product
The set comes in different sizes, which include a small and large size. Assembling is required, and for this reason, the seller includes assembling hardware instructions in the package.