This product is listed here: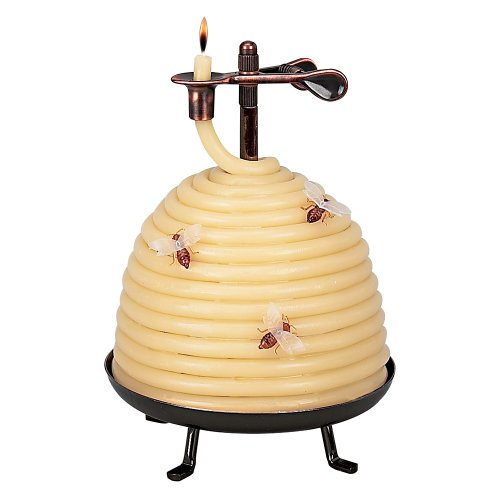 Candle by the Hour – 70 Hour Beehive Candle
Beeswax candles have been used for illumination and timekeeping for centuries. These days however the quality and style of the old fashioned beeswax candles have been superseded by soya and petroleum-based candles to such an extent that if we find a beeswax candle, it is a subject of wonder and often classed as a little quirky.
Candle timepieces work on the principle that a candle burns at a steady rate so depending on the diameter of the candle, the length is proportional to the burning duration.
This candle is made with natural beeswax and a 100% cotton wick.
Detailed information about Candle by the Hour – 70 Hour Beehive Candle
The framework is made from metal and supports the beehive-shaped candle coil on its stand. On average the candle burns at a rate of 1" per 20 minutes. This means that if you push 3" through the candle clip, it will burn for about an hour.
When the flame reaches the clip the burning candle is automatically extinguished giving a useful visual indication of time.
The entire coil and any other refill purchased from the company lasts approximately 70 hours in total.
The metal stand and beehive shape of the wax is very creative and provides an interesting conversation piece that is both rustic and functional.
The wax candle is soft enough to carefully unwind and push up through the clip allowing the user to continue to use the candle for hour upon hour.
WHY WE LIKE IT?
Cute and quirky beehive shaped beeswax candle
Additional plastic bees supplied to fit onto the candle
The candle burns at 3" per hour
Self extinguishes when the flame reaches the candle clip
Refills available from the supplier
WHY WE dont LIKE IT?
None
What we love about this product
As a cute little add-on, the beehive-shaped beeswax candle comes complete with a collection of plastic bees that can be positioned anywhere on the candle to give the final cute and quirky touch.