Mother of the Bride Dresses for 2023
last updated:
Apr 09, 2019
12657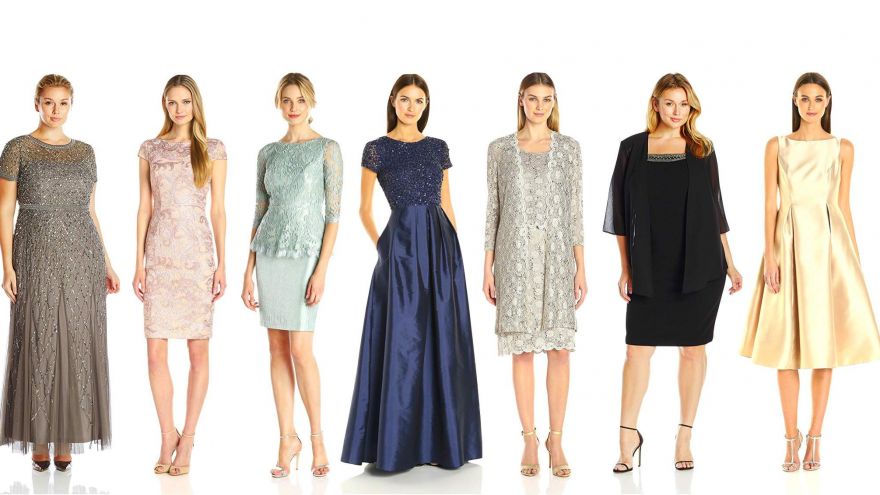 As a mother with a child who is soon to be married, it can easily be one of the most exciting times of your life. Between picking all of the perfect flower arrangements, helping with guest lists, and making sure that the bridal party is taken care of, it can be easy to forget about your mother of the bride dress.
However, with the thousands of different styles in the world, finding the perfect dress is easier than you might think, especially if you want to set a perfect impression and feel comfortable at the same time.
Below are some of the most beautiful mother of the bride dresses that will surely have everyone's head turning and can help you to feel the most beautiful you have felt in years.
1. Elegant Floral Lace Swing Dress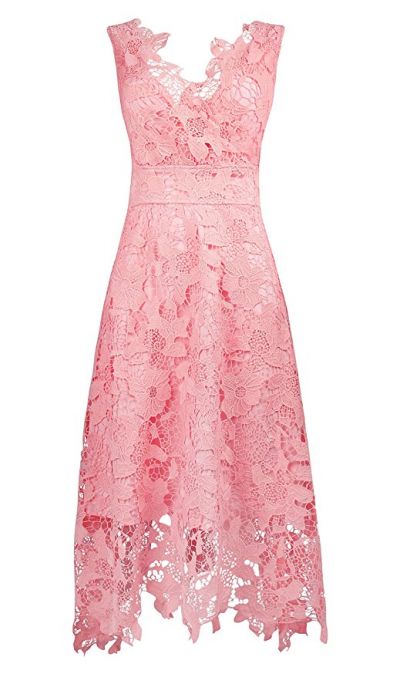 You might be a little hesitant when it comes to choosing lace for your mother of the bride dress, especially if the bride is already wearing a lace gown. It's important to remember that not all lace is created exactly the same and when you choose a gown that isn't white, you won't look similar to the guest of honor.
This beautiful elegant floral lace swing dress is ideal for mothers that are interested in showing off a tasteful amount of skin meanwhile accentuating their stunning taste for fashion. It's available in 10 different colors, giving you more than enough options when it comes to choosing your wedding wear, including pink, black, white, burgundy, red, lavender, baby blue, and more.
The cinched waistband is ideal for accentuating all of your best features and the tasteful V-neck shows the perfect amount of your chest to where you can show off an elegant piece of jewelry to pull the entire look together. The lace is also phenomenal for summery weddings that are all about floral motifs.
2. Tea Length Dress with Jacket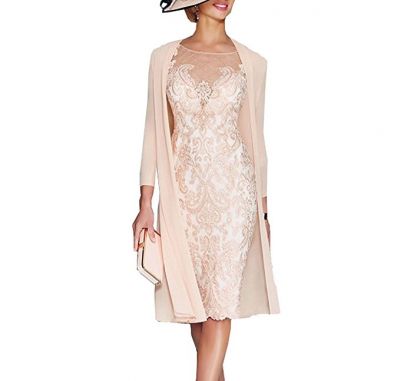 This dress and jacket combo is a stunning pair for not only weddings, but other outings as well because it has the perfect amount of elegance for a formal affair, but can also be dressed down for occasions that are more casual. There are over 14 different colors that you can choose from with this tea length gown ranging from navy blue to yellow, making it easy to fit in with the décor of absolutely any wedding.
Tea length dresses are a great option for mothers who aren't interested in showing too much skin, and with the combination of the jacket, you'll be able to avoid having to show off your arms. You'll also fall in love with the delicate mesh neckline that covers the perfect amount of your chest and fades down into a brilliant and stunning display of lace.
As an added flair, the scalloped trim of the dress offers a little bit of flirty femininity that you'll love, especially if you're looking for a mother of the bride dress that shows off your best features.
3. Tulle and Applique Formal Gown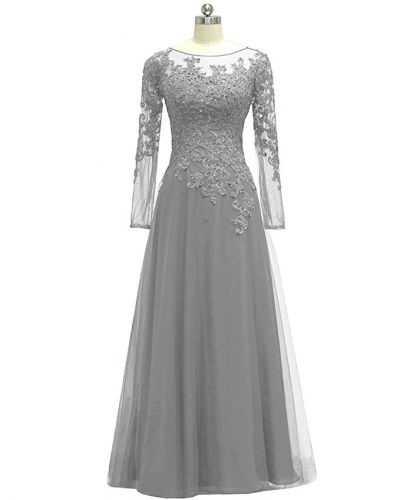 For mothers that aren't too interested in showing off their legs or wearing a shorter gown, you'll fall head over heels for this long sleeve and draping gown that will sashay across the floor with your every movement. With over 18 different colors to choose from, you certainly won't feel like you have limited options, but above all else, the design of the gown is what truly sets it apart from other gowns on the market.
The delicate mesh bodice creates a stunning curved neckline and trails down the entirety of the sleeves. Approximately halfway down the sleeves you'll fall in love with the ornate appliques that also trickle into the rest of the areas of the bodice and slowly make their way down to the midsection of the dress. If you're looking for a design that will flow with the breeze, this is the perfect one for you as the tulle skirt is incredibly breathtaking.
4. Cap Sleeve Long Evening Gown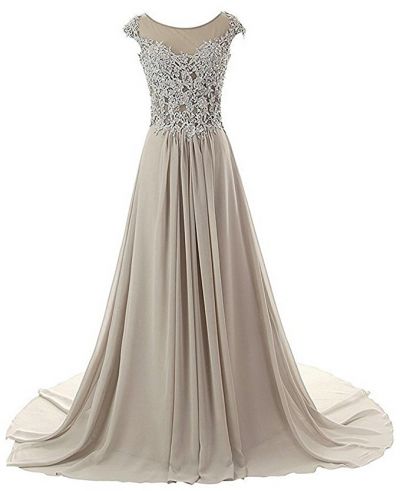 As one of the most stunning dresses on this list, this cap sleeve long evening gown is something that every mother should be able to get her hands on because it's the perfect combination of jewelry, beauty, and versatility. As a dress that would be phenomenal for a wedding, or any other formal event, this is truly something that you deserve to have in your wardrobe.
With stunning and immaculate beading throughout the bodice, it creates a unique appeal when compared to traditional lace and the delicate beading makes its way onto the capped sleeves, creating the perfect show-stopping element that will surely turn heads. The bodice also does a great job at accentuating all of your best features as it makes its way down to the bottom of the bodice, which is where the skirt begins.
If you're looking for the most amount of drama possible, you'll adore the skirt on this evening gown as it has an impeccable train that is not too difficult to manage while dancing and mingling throughout the entire wedding, but it also helps to highlight your importance during the special day as well. Similar to the other gowns on this list, there are several different colors for you to choose from.
5. ¾ Sleeve Long Evening Dress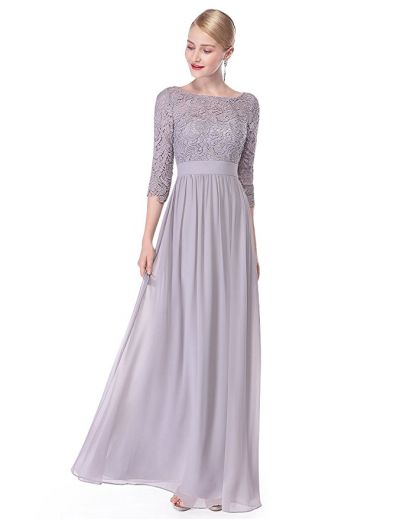 For the more traditional mothers, this ¾ sleeve long evening dress is exactly what you would expect a mother of the bride dress to look like, but with a few added features that will help you to feel more comfortable and secure throughout the evening. The banded waistband is essential for accentuating all of your favorite features and it creates the perfect break between the lace top and flowing bottom.
The skirt of the dress isn't too overwhelming, which makes it perfect for dancing and walking without having to worry about any extra material trailing behind you. Although this dress is slightly more formal than the others on this list, it is also classic and brilliantly designed to help mothers of all ages feel comfortable and beautiful on their child's special day.
6. Vintage Floral Lace Cocktail Dress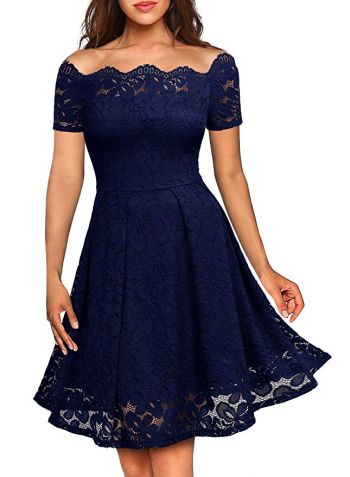 Ideal for weddings that are the perfect mix of formal and fun, this vintage floral lace cocktail dress will accentuate all of your best features without feeling too stuffy. It's the perfect design to transition from an afternoon wedding to an evening reception and it comes in a couple of different styles depending on your personal preference. We love the look of the boat neck short sleeve top, however, you can also opt to have long sleeves as well.
The elegance of the floral lace is what sets this dress apart from other cocktail dresses, making it the perfect addition your daughter's or son's wedding without going too over the top or underdressing for such an important occasion. The dress is made out of 90% nylon and 10% spandex with an easy to use zipper closure. Also, it's entirely machine washable, however, you'll want to make sure that you wash it on a gentle cycle in cold water and allow time for air drying.
7. Tea Length Two Piece Dress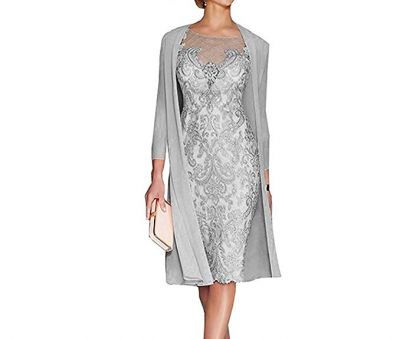 If you're searching for the type of dress that you could wear to a wedding but also for a night out on the town hopping from one luxurious restaurant to another, this tea-length two-piece dress is exactly what you should be setting your eyes on. Available in a variety of colors ranging from mint to black, this is one of our favorite dresses on the list as it hugs all of your curves perfectly, making it the ideal design for women of all body types.
The stunning embroidery on the front of the dress is what makes it stand out from the crowd without outshining the bride on her special day. The detailing is incredibly unique and covers the entire bodice, though our favorite part is the mesh lace lining around the upper chest and neck to help set the right conservative tone for such a special occasion. Also, there is an included overcoat, which is perfect for transitioning from a formal setting to a fun party environment.
When ordering the tea length two-piece dress, it's recommended that you send in your personal sizes so that you can have the dress custom made to your sizing needs.
8. Ruched Vintage ¾ Sleeve Dress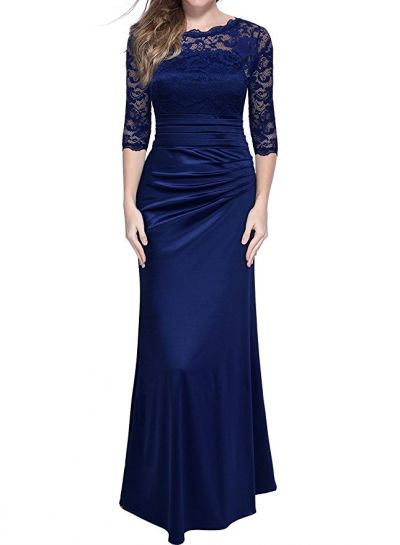 Perfect for mothers who love the idea of a traditional mother-of-the-bride dress but aren't interested in looking dated and tired, this ruched vintage ¾ sleeve dress is perfect for women of all shapes and sizes. The gentle ruched material on the left hip is perfect for adding a little bit of definition to the sheath skirt and adds even more texture before the dress transitions into the beautiful lace at the bodice.
With the additional wrapping around the waist, you'll have the ideal hourglass figure with little to no effort and the elegant vintage lace at the top of the bodice helps to pull the entire look together. We also love how the lace trickles down the ¾ length sleeves, creating a beautiful ending for a beautiful dress.
Constructed out of polyester and spandex, the ruched vintage ¾ sleeve dress is equally as breathable as it is movable, making it far more comfortable than most traditional dresses.
9. V-Neck Tea Length Chiffon Dress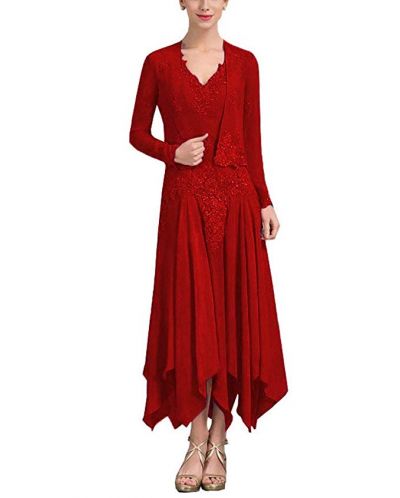 As another phenomenal design that can easily be worn for multiple occasions, this V-neck tea length chiffon dress gives you the perfect option for weddings in warmer weather as the materials are incredibly breathable, flowing, and still offer the same formal design that you would expect from a mother of the bride dress. Above all else, it comes with an included jacket so you have the ability to transform the dress from a more conservative ceremony dress to an exciting and playful reception dress.
If there's one thing that can surely be said about the stunning beading and embroidery trickling down the front and back of the V-neck tea length chiffon dress, it's that it adds definition in all of the right places. It's also available in over 20 different colors, making it easy to find the right design to compliment the aesthetics of your daughter's wedding.
10. Stunning ¾ Sleeve A-Line Dress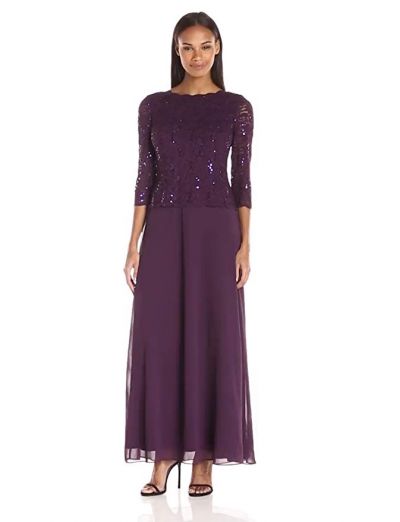 Most mothers prefer the idea of a full body dress for a wedding and the remarkable design of this ¾ sleeve A-line dress is what will have heads turning when you walk down the aisle to your seat. Designed with 100% polyester, you can guarantee that you won't have to worry about feeling stifled in tight materials such as taffeta and the full-body skirt moves with you, flowing gently as you walk.
We also love the added touch of the jeweled ¾ length sleeves, as it adds a little bit of youthfulness to the otherwise traditional dress design. The stunning contrast between the flowing A-line skirt and the more structured lace and the jeweled bodice is what makes this one of the best dresses for any formal occasion.
11. Crystal Mermaid Gown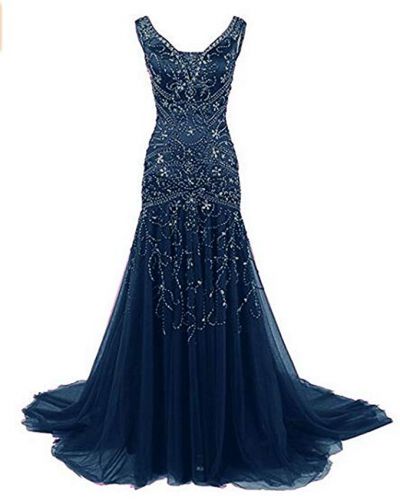 There's no reason as to why moms can't show off all of their best features, even if it's not their wedding day! This is why we love this crystal mermaid gown because it has the jaw-dropping details that you would expect but it is pulled together perfectly to make it quite appropriate for a wedding. If you're the type of woman that's ready to strut her stuff, this is a phenomenal design that you should certainly consider.
The form-fitting jeweled bodice is what makes this dress so spectacular, though our favorite embellishment is how the embroidery and crystals make its way down into the mermaid-style skirt that flows outwards at the perfect point of the dress.
All of the sequins and beads will surely catch the light with every step, and you can guarantee that you won't even need to wear jewelry with this immaculate design.
12. Crystal A-Line Short Sleeve Dress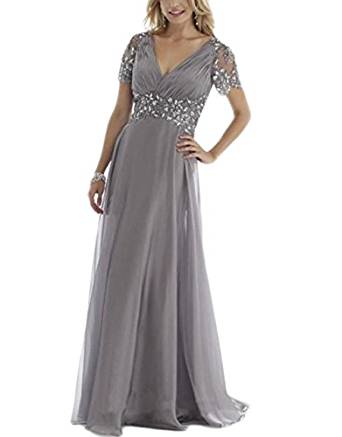 As another full-body design that will be comfortable for women of all sizes, this crystal a-line short sleeve dress has everything that you'd need to not only look your best but feel your best as well. The full-length skirt is quintessential to your idea of a regular mother of the bride dress and gives you the comfort of a more conservative design.
However, this doesn't mean that the dress is bland by any means, as the elegant crystal beading along the waistline, the back, and the sleeves are what make this the perfect design for any woman who wants to make a fantastic impression.
13. Long Sleeve Formal Wrap Dress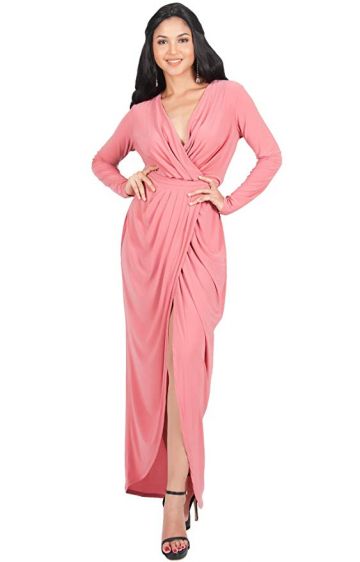 Perfect for mothers that are looking for something outside of the norm, this wrap dress is ideal for accentuating all of your best features and surely keeping you comfortable during the wedding ceremony and reception. This long sleeve formal wrap dress doesn't feature any exotic feature such as delicate embroidery and beading, however, it has a ruched material and finer details in all of the right places, making it the perfect dress for a less formal wedding.
Available in over six different colors, the entire dress is crafted out of matte jersey and is available in plus sizes as well. With a stunning slit down the front of the dress that transcends into the perfectly sized waist, you'll feel beautiful, confident, and most importantly, more alive than you've felt in years when you put this gown on.
14. Chiffon Three-Piece Pantsuit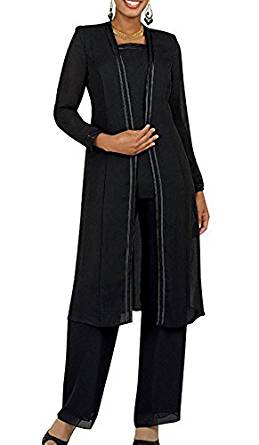 It's common that not every woman wants to be seen in a dress on their daughter's or son's wedding day and the idea of a pantsuit is incredibly modern. With the right design, you can show off all of your best features confidently and comfortably without relying on the traditional design of a mother of the bride dress.
This chiffon three-piece pantsuit comes with the pants, shirt, and jacket, crafted out of incredibly comfortable and breathable chiffon. We also love the attention to detail that was put into this outfit, as the brilliant sparkled trim down the front of the jacket helps to add a little bit of "bling" to the overall look.
15. Long Sleeve V-Neck Velvet Dress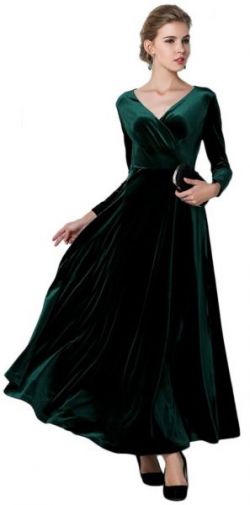 As the perfect partner for a holiday wedding or a winter event, this long sleeve V-neck velvet dress has everything that you could ask for if you're looking for something that exudes confidence, beauty, and an impeccable fashion sense. The main feature you're sure to appreciate about the dress is that not only is it crafted using rich and luxurious velvet, but it's also stretchy, which makes it the perfect dress for women of all sizes.
The incredibly soft feeling of the velvet will have you feeling like a million bucks as you walk into the room and it has the perfect combination of vintage and modern appeal that you would expect a mother of the bride dress to have, giving you the best of both worlds.
With the right idea of what you're looking for in a mother of the bride dress, finding the perfect design is easy, especially when you have access to these five designs right at your fingertips. From short and sassy dresses to long and traditional gowns, the options are endless.
Pin for later