Best Backpacks for Work: Women & Men Edition
last updated:
Aug 03, 2023
6179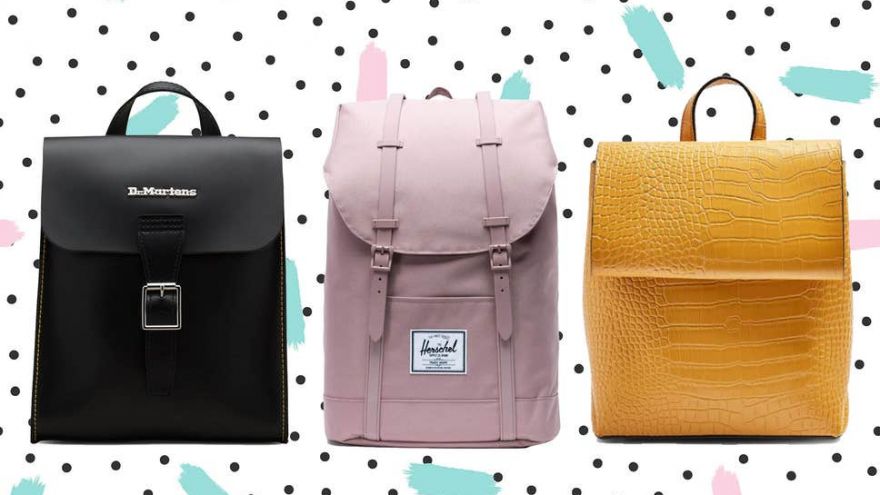 It's often that people are on the hunt for the perfect work backpack. With several pockets you can use to store all of your most essential belongings, there isn't much else you'll need.
You can carry sensitive documents, laptops, and even your lunch, all while keeping your hands free.
Regardless of if you are a man or a woman in different industries, we've found a collection of the best backpacks for work, especially if you're in the market for a professional pack.
Best Backpacks for Work Under $50
For many people, there's no need to spend upwards of $100 on a backpack, especially when there are multiple affordable and high-quality bags on the market.
These are by far the best backpacks for work for someone searching for a heavy-duty work option.
1. Modoker Vintage Backpack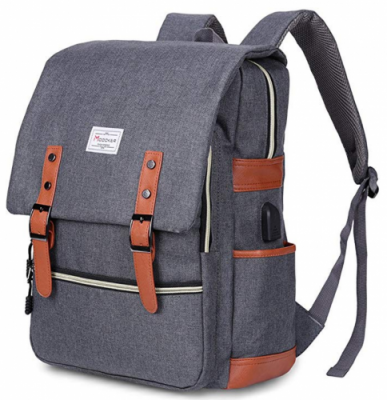 This is one of the best work bags that has a ton of cool features that make it look phenomenal, but it is also highly functional.
Available in grey and black, there is an assortment of special functions, such as an external USB charging port and set-in charging cable.
This feature allows you to charge your devices while you are walking.
You'll love the amount of storage space you have with this professional backpack, as it has six total compartments for all of your belongings.
This feature includes two pockets on the side that you can use for storing water bottles or accessories you'll need to get to quickly.
The exterior and interior fabric used to make the Modoker Vintage Backpack is also notable, as it is 600D nylon.
This material makes it anti-tear, scratch-resistant, and slightly water-resistant as well.
2. KROSER Laptop Backpack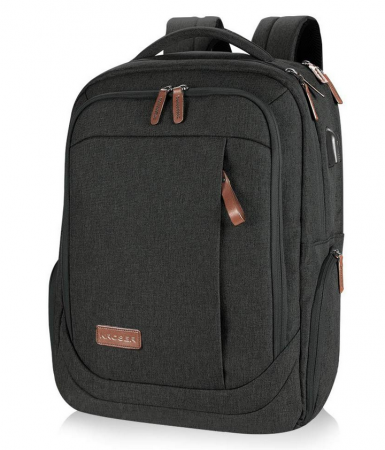 When you typically carry a lot of devices with you, you'll want to make sure you have more than enough storage for everything you need.
This backpack is designed with impeccable attention to detail, making it perfect for any man or woman in various professions.
Crafted out of environmentally-friendly poly fabric, you can also guarantee you'll be giving back to the environment with your purchase.
There are a few roomy compartments inside of the backpack that gives you plenty of storage for your laptop, tablet, file folders, clothes, and even power banks.
You'll find in the main compartment there is a separate pocket organizer that will keep laptops up to 17.3 inches protected.
Also, similar to the previous bag we discussed, the KROSER Laptop Backpack has a built-in USB port for charging while you're traveling.
3. VASCHY Leather Laptop Backpack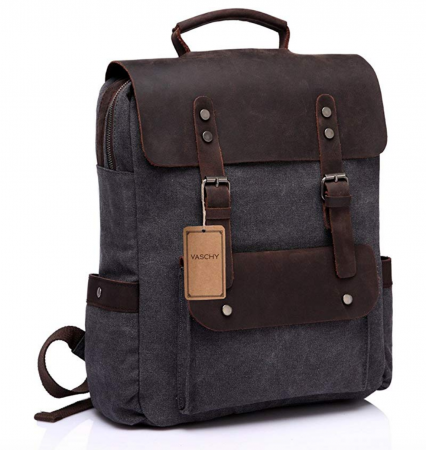 If you're searching for a professional backpack that looks different from traditional designs, this is undoubtedly one of our favorites.
With a stylish and sleek appeal, you'll be able to wear a fashionable accessory that is also filled with convenience.
Made from 100% cotton canvas that is both soft and durable, you'll have the utmost amount of security with this backpack.
The leather accents are what help to pull the aesthetic of this bag together, and it has a fantastic unisex appeal. There are two main interior pockets as well as a padded compartment for laptops up to 15 inches.
Within the main compartment, you'll find a zippered compartment for your valuables. There are also two water bottle pockets on either side of the backpack.
The front pocket is sealed with magnetic clasps for easy access to your most essential accessories.
4. Lekebaby Laptop Backpack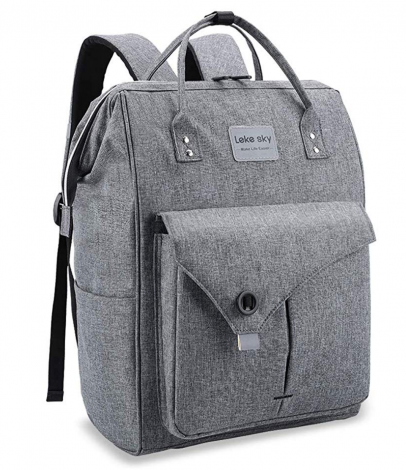 Perfect for people who need a lot of storage for their work accessories, the Lekebaby Laptop Backpack has plenty of room. Inside of the main zippered compartment, there's a separate sleeve for laptops.
You'll also have a document area and two water bottle side pockets for extra storage. On the front of the bag, you'll also love how the front compartment is organized with individual slots for pens and pencils.
This backpack has a design that is easy to use every day, especially with its large top opening with double zipper closure.
Also, it's made from heavy-duty polyester that is water-resistant and non-fraying. You'll surely be investing in a work backpack that will last over many years of use.
Best Backpacks for Work Over $50
If you want to treat yourself to a name brand bag that is a little more expensive, we highly recommend the few models we'll look at in this section.
We also find that they would make fantastic gifts for a loved one, especially if they always lack storage for their essentials.
1. Kenneth Cole Reaction Chelsea Backpack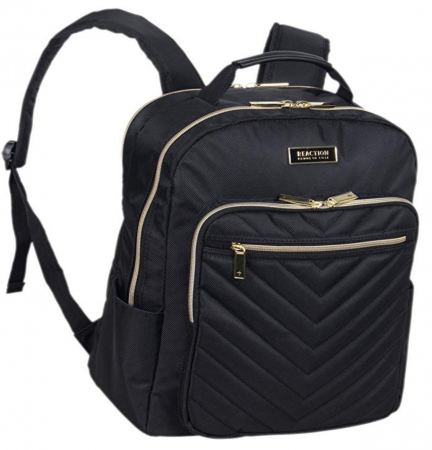 Initially designed for travel, this backpack is quite versatile. It has everything you need for day-to-day commuting but can also double as a carry-on for flights and long-distance trips.
Available in four different colors, this chevron-quilted laptop travel bag is precisely what you've been looking for.
It features a combination of polyester and twill to create a classic yet stunning appeal that will last for years.
The best feature of the Chelsea Backpack is that it has a padded laptop sleeve that holds laptops up to 15-inches in size. There are also plenty of accessory pockets that have their own individual zippers.
You'll also appreciate the dual exterior holster pockets for additional storage.
When using roller luggage, be sure to use the trolley tunnel, which is meant to slide over the handles of your luggage for hands-free carrying.
2. Samsonite Kombi Business Backpack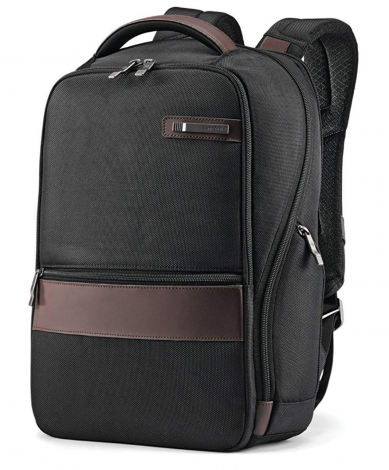 Samsonite is easily one of the industry leaders when it comes to work-appropriate luggage.
This bag comes with an onslaught of features that are highly advanced and well worth the investment. You can also choose between a black backpack with brown accents or a navy bag with brown accents.
The entire exterior of the bag is crafted using rugged ballistic nylon, and it also boasts genuine leather details that pull its professional aesthetic together.
Much like most backpacks, there is a hidden padded laptop compartment that fits laptops up to 14 inches in size.
For travel, there are SmartSleeve slides in the design that will slide over upright luggage handles so that you can be highly mobile.
Some of the unique features for business people is the key fob pocket and multiple pockets for organization.
There is also a specialty fleece-lined pocket designed for your smartphone to protect it from scratches.
3. Swiss Gear Travel Gear 190 Backpack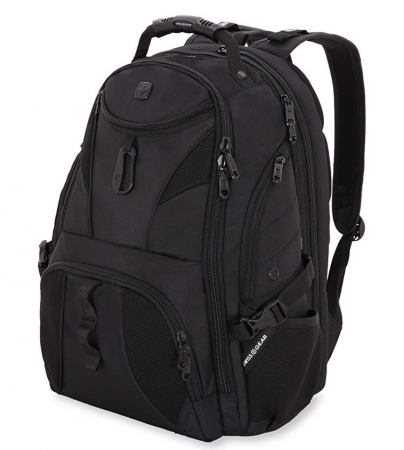 We love the idea of this bag for someone who has to travel a lot for work, as you'll want a multi versatile bag that is also TSA-approved.
The Swiss Gear Travel Gear 190 Backpack is not only TSA-approved but is easily one of the most convenient bags on this list.
Crafted using superior materials and high-quality techniques, this backpack will last longer than most others.
The exterior material is a weather-resistant 1200D ballistic polyester, meaning you can use the bag in the rain, sleet, and even snow without your belongings getting wet. It is specially designed for travelers who are frequently in harsh weather conditions.
Another exciting feature of this bag is its ScanSmart technology. This tech allows all of your belongings to lie flat for scanning machines, and all of the pockets open quickly at airport security.
Going through TSA has never been easier than with this backpack.
There are also plenty of options for your organization, whether you travel with writing utensils and notebooks or laptops and tablets.
You can even easily fit a change of clothes into the bag for overnight trips. With the help of the contoured straps and adjustable compression straps, you can comfortably carry the bag for hours on end.
4. Kenneth Cole Reaction Sophie Backpack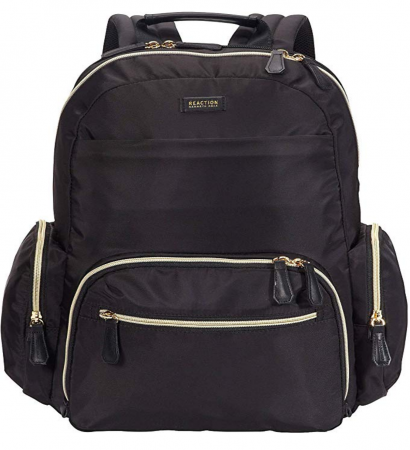 What we love the most about this professional backpack is that it's modern and simple on the outside. It also has plenty of storage on the inside.
The elegant finishes are what set it apart, as it has a silky nylon exterior with gold plated zippers and fixtures.
Each of the pockets on the inside of the bag is lined with a tear-resistant polyester. This material is ideal for people who carry plenty of small accessories.
Inside the main compartment, you will also notice there are multiple compartments for you to pack your valuables and work gear.
These compartments include a laptop sleeve meant for 15-inch (or smaller) laptops. You'll also love having it for your tablet, as you can store it safely while traveling.
Similar to the other high-quality bags on this list, the Sophie Backpack features a trolley tunnel that allows you to slide the bag over the handles of your luggage.
We also love that there's a built-in RFID-protected flap to keep your digital information safe while traveling.
A few other examples of storage include pen loops, top slip pockets, two open slip pockets, and more.
Best Backpacks for Work Over $100
For the creme de la creme of professional backpacks, you can bet you can find bags that are over $100.
With plenty of exciting features, the more expensive the pack is, the longer it will last, and the more convenient it might be.
You'll want to take the time to see why these are considered among the best backpacks for work on the market.
1. TUMI Voyageur Just In Case Backpack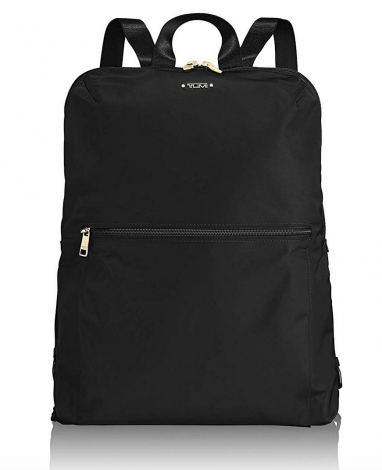 TUMI is known for designing some of the best backpacks for work that are also very luxurious, and for a good reason. They are crafted with close attention to detail and are some of the most convenient bags for everyday commuting and special trips.
This particular design is one of our favorites as it is sleek and stylish but also designed with practicality in mind.
When this bag is empty, it can be folded down completely flat, which makes it ideal for packing for overnight trips or destination trips.
It's lightweight and versatile, which makes it an iconic design and the perfect backpack for day trips or hiking excursions, especially as it's made using high-quality nylon.
Overall, the design of the TUMI Voyageur Just In Case Backpack is rather simple, which is precisely what you might need.
There's no need to deal with numerous pockets or staying disorganized, as this backpack has exactly what you need for those "just in case" emergencies.
You'll love the double zipper main compartment, the zippered front pocket, and the convenient top-grab handle.
2. BOPAI Anti Theft Business Bag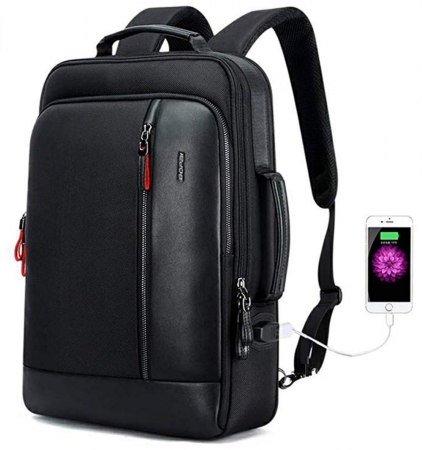 The last thing you will want is to have your work laptop stolen either in the office or while you're on the train. With the BOPAI Anti Theft Business Backpack, you'll be readily prepared for anything.
It has a highly intuitive design that is easy to use and convenient to have on hand for day-to-day travel.
The smooth zippers are particularly notable, especially as when unzipped, you receive an additional 50% of storage space.
Anti-theft has never been more critical than it is today, and with this backpack, you can protect your valuables.
There is an invisible zippered pocket that is large enough to store your iPhone, wallet, and keys all in the same place. Each of the zippers is also large enough to install your locks for added protection.
In terms of the materials, the exterior is made from microfiber leather and ballistic nylon to prevent tearing and to enhance water resistance.
3. Royce Leather Executive Backpack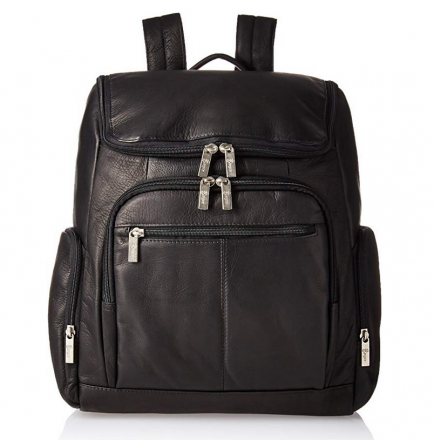 Luxury is the first thing that comes to mind when you look at this backpack, as it has all of the high-fashion details you would expect from a high-end brand.
Entirely handmade in Colombia, this backpack features genuine Colombian Vaquetta leather on the exterior. All of the hardware is also handmade to ensure it stays in its pristine condition for years on end.
What we love the most about the Royce Leather Executive Backpack is you can use it condensed or extended.
Its overall lightweight design also makes it far more comfortable to carry daily. With the help of the padded laptop sleeve and easy-access U-zippered main compartment, there's plenty of room for your essentials.
You'll appreciate the front zippered pocket, business card holder, and smartphone pocket, as well.
Finally…
Choosing the best backpacks for work means you'll want a design that is functional, convenient, and professionally styled.
With all of the bags we've explored in this guide, you'll surely find the perfect style for your everyday needs.
You'll also love how most of these bags are fantastic options for overnight trips as well.
Pin for later