Uncommon and Original Wedding Dresses
last updated:
Nov 05, 2020
1156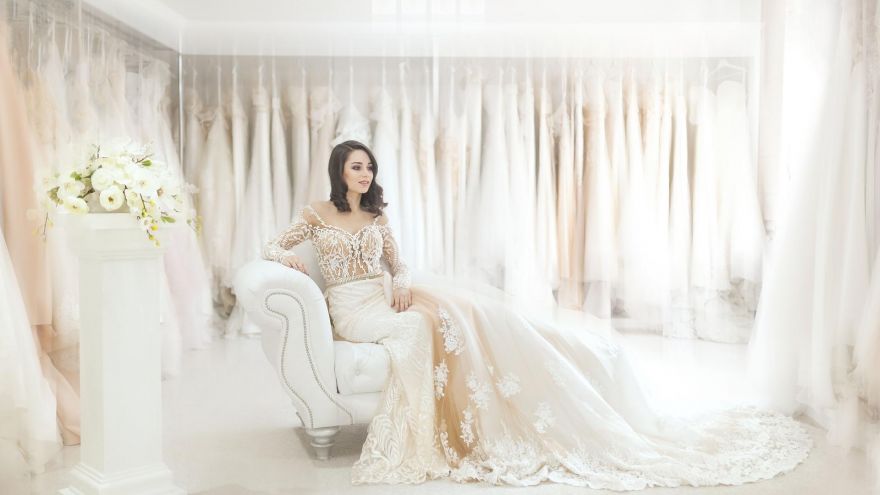 When you and your partner decide it's time to tie the knot, your immediate thought is going to be the wedding dress you're going to wear. Sure, there are thousands of traditional dress ideas that you can buy from mass retailers but you're going to want something special. A wedding is a union between two personalities and if you're not a traditional bride, you're going to be on the hunt for something that is not only stunning but also equally as innovative and uncommon as you are.
Below are some interesting things that you might want to look out for when you start shopping for your dress. There's nothing better than buying a gown that will not only accentuate your body but also your personality.
Graphic Lace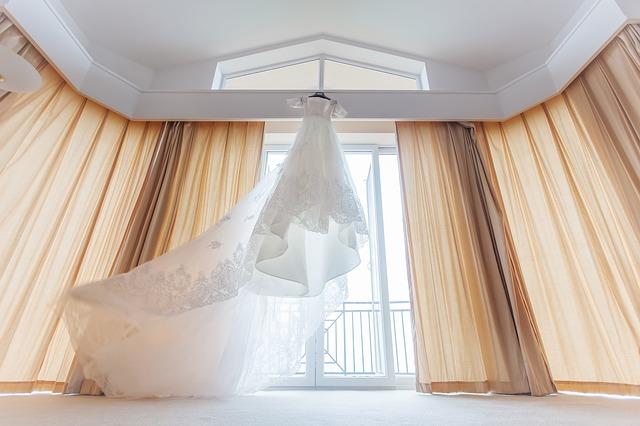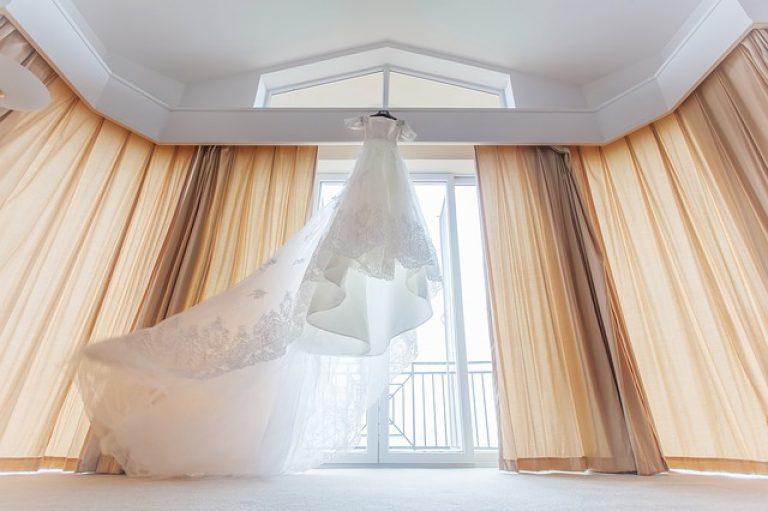 Okay, we all know that the traditional lace you can find on wedding gowns adds a certain feminine appeal but today's fashion designers are taking traditional lace to a whole other level. Graphic lace is equally as stunning but offers a far more modern and contemporary look to a material that you otherwise would have turned away from.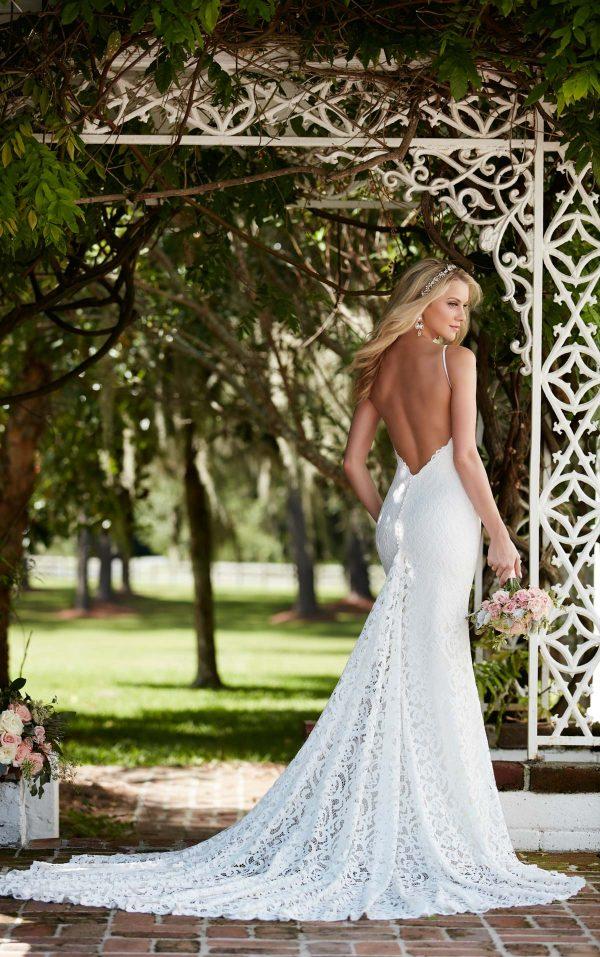 Take a moment to think about the typical idea of lace, with all of the floral decals and frilly components. Now, graphic lace is far more geometric and far less frilly. But it still adds an extra ounce of class when paired with other materials. If you're looking for something that is going to be strikingly different, graphic lace is exactly what you're looking for.
Ombre
Dresses
Ombre has always been around but it started to gain most of its popularity when women around the world started to add the transitional color scheme to their hair. Today, you can get ombre wedding dresses that are equally, if not more, beautiful than the traditional white and off-white styles you find from most designers. The best part about ombre wedding dresses is you can get them in a variety of different colors, which is the best news for non-traditional brides.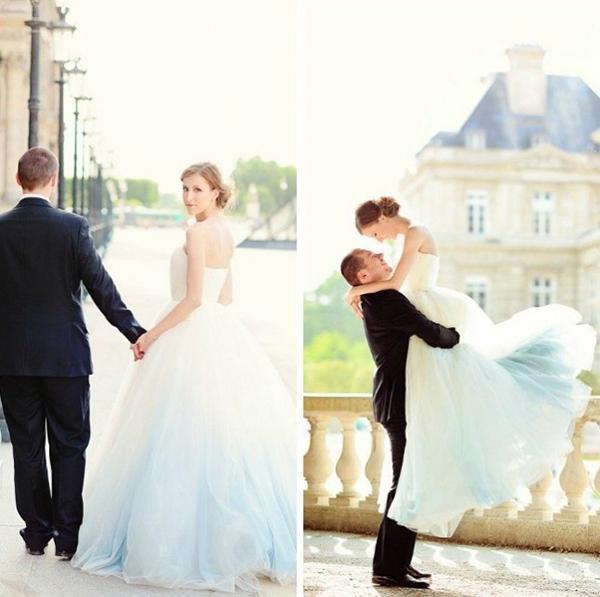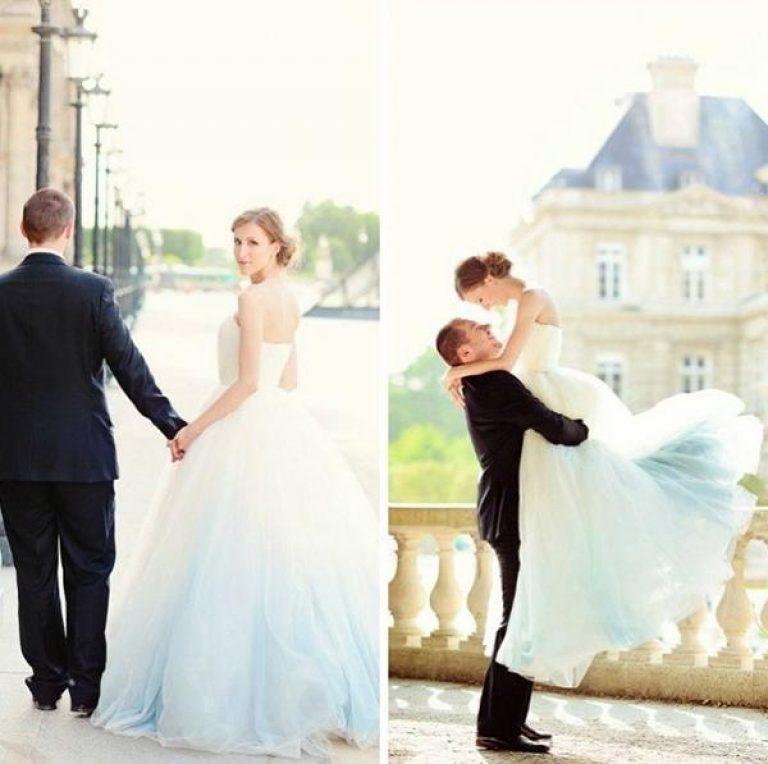 Our personal favorite is a wedding dress that gently transitions from off-white to a rose or blue color at the bottom of the dress. It's the perfect way to add more femininity to your gown without going overboard. Plus, it takes away from the typical look of your everyday average dress. Ombre also helps to add an extra ounce of texture to the piece, particularly if you choose one with a fuller skirt.
Futuristic Asymmetric Column Gowns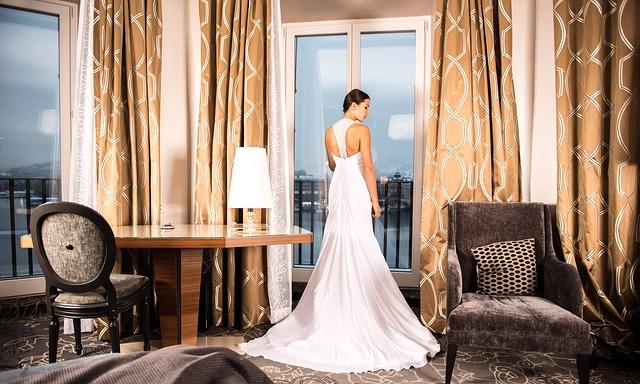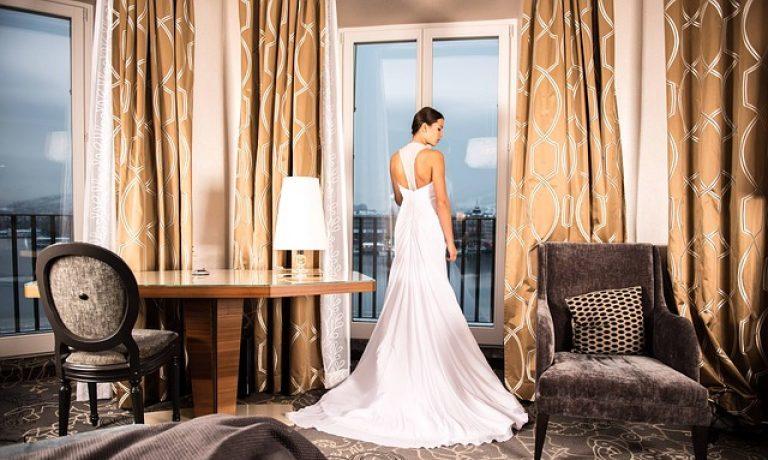 For all of the modern brides in the world, we've found the perfect style that will set you apart from every other guest at your wedding. In fact, we may have found a gown that will sincerely set you apart from other brides around the world. With the help of the futuristic asymmetric column design, you're going to have the ability to look like you just stepped out of an haute couture magazine from the year 3000.
It's bold, stunning, and absolutely immaculate on brides that want to showcase their contemporary side. The column design of the gown helps to elongate your beautiful figure and with the combination of an asymmetric neckline, it flatters absolutely any body shape. Sleek and futuristic is the best way to explain this design, plus, the dress will be so stunning that you won't even need to worry about accessorizing with a large bouquet.
Crop Top Two-Piece Sets
As couples are getting married at younger ages, designers have begun to create gowns that with complement a variety of different ages. For example, a 25-year-old bride may not want to wear the same type of dress as a 50-year-old bride. This is where crop top two-piece sets come into play, as they're far more than high fashion and they're also comfortable and unique.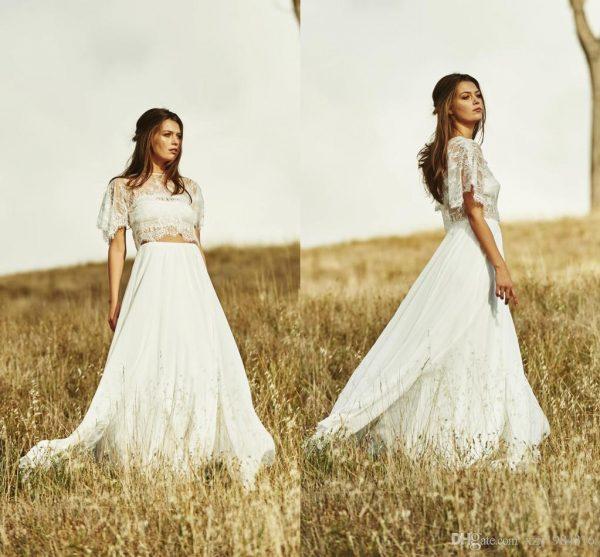 If you're the type of bride that is looking to stray away from the ordinary idea of what a wedding dress will look like and you're searching for something that shows off your personal style, a crop top wedding gown can be a great option. These gowns side more with street wear/everyday fashion more than girly femininity. You can also find them in a variety of different colors and style to compliment every type of body shape.
Lace Rompers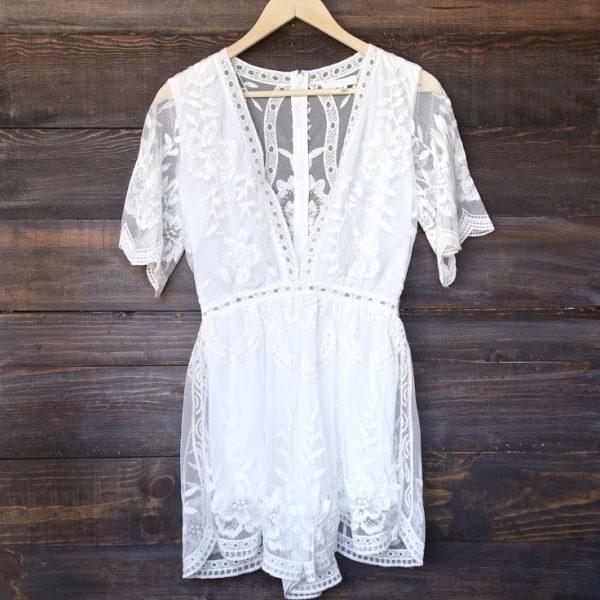 No matter how you look at it, there will always be different brides that have different ideas of what they'd want their wedding to be like. With more summer weddings happening every year, there's no point to forcing yourself to suffer in an oversized ball gown if you're getting married outside. In fact, it can be far more practical and stunning for you to opt for something a little lighter, such as a lace romper.
Rompers are one-piece bodysuits with shorts at the bottom and typically long or short sleeves at the top. The best part is they show off all of your best features, help to accentuate your waist, and can be dressed up to be even more appealing than your average everyday wedding dress. Rompers can be a great idea for quaint weddings with friends and family or as a second outfit that you can change into once you've exchanged your vows.
All you'll need to dress the romper up is a beautiful necklace; killer pair of shoes and a remarkable headpiece to really pull the whole look together. Plus, since less material is needed to make this bold wedding attire, they can be incredibly affordable and you can wear it more than once.
Your wedding day is something you're going to want to remember for the rest of your life. What would be a better way to look back on your marriage than to be able to say your special day really reflected who you and your significant other are? There are plenty of wedding dress designs in the world, and although you might be tempted to just choose a traditional style that you think would work, why not opt for something you know you'll love? From ombre colored materials to geometric patterns, designers are covering all women to ensure everyone has something special to say, "I do", in.
Pin for later