Engagement Rings That Look Like the Real Deal
last updated:
Apr 08, 2019
2255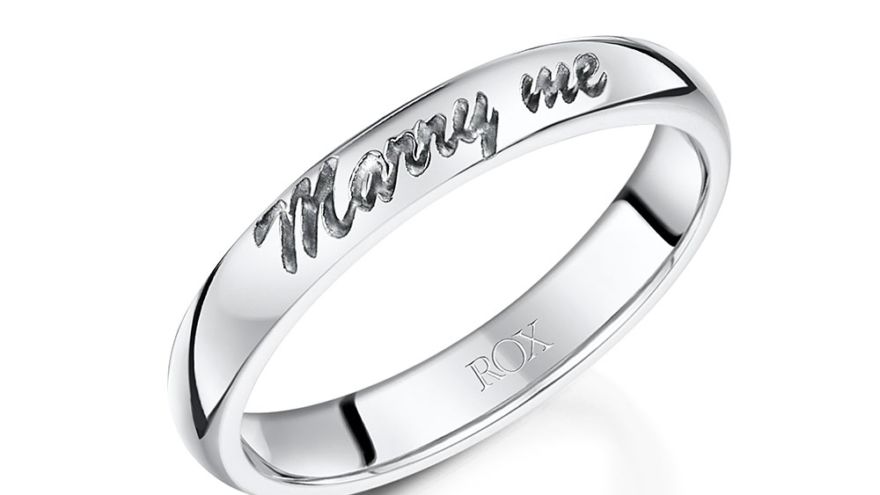 Deciding to get married is one of the most exciting decisions you'll ever make in your lifetime, but let's face it – getting married is expensive! Especially if you are younger and getting married for the first time, it can almost feel impossible to plan the wedding of your dreams without completely going bankrupt.
The first moment it really hits most people how expensive getting married is is when they first start looking at engagement rings. Whether you are a man starting to look for your lady, or if you're the lady checking out rings to get an idea of what you like, you've probably had sticker shock looking at the price of most rings.
While getting the engagement ring you love is certainly important, the truth is, you don't have to break the bank in order to get the perfect ring. It is true that this ring is a symbol of your love, and you will have to look at it each and every day, so you want it to be amazing. However, if you are paying off the cost of the ring for years to come, it sort of loses its luster!
Great news. There are plenty of affordable engagement rings out there that do not at all look like they are affordable. In fact, we found these 5 rings that believe it or not are all under $100. That's right! Spanning a variety of styles, these rings look just like the real deal, but won't cause you to dramatically inhale when you view the price. Guilt free shopping- what could be better? Take a look at these rings and see for yourself just how beautiful they look.
For the Classic Woman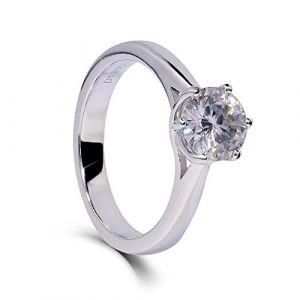 Price: $99
You can't go wrong with a classic solitaire style engagement ring, and this ring is the absolute perfect, simple style so many women love. The setting is sterling silver plated with platinum, ensuring it will be incredibly long lasting. The center stone is a beautifully cut moissanite gem, but you would never know! The stone has excellent clarity and shine, making it appear exactly like a diamond, but without the huge price tag attached. We love the simplicity to this ring and could not believe it was just $99.
For the Bold Woman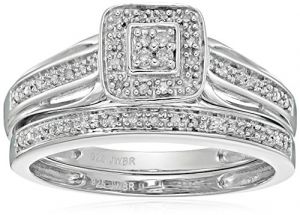 Price: $59
Not into classic, simple styles? No worries! There are plenty of affordable options for women who want more of a statement ring, like this example. Best of all- this purchase includes not just the engagement ring, but also the wedding band! You absolutely cannot beat the value of this ring, but best of all, it looks incredibly expensive and intricate. The band is sterling silver and the stones are- diamonds. Yes! Actual diamonds. Keep in mind the total carat weight is 1/10th of a carat, but the way the stones are clustered, it gives the appearance of a much larger stone. The square halo shaped design is the must have style these days, making this an excellent engagement ring that any bold, modern woman would love.
For the Modern Woman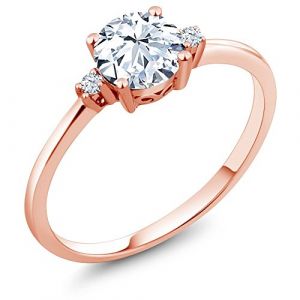 Price: $99.99
Rose gold has become the most sought after metal, and for many women, they desire an engagement ring that is rose gold as well, not just other jewelry. This beautiful engagement ring is only $99, but it looks so much more expensive. Any modern woman looking for a rose gold engagement ring would fall in love with this ring and would be so shocked to know it isn't real. The band is 10K rose gold, ensuring it will last for a long time and is perfect suitable for daily wear. The stones are white sapphires that so closely resemble diamonds, you'll never be able to tell the difference!
The two small side stones take this ring to another level, giving it such a level of sophistication with the modern flair of the rose gold band. An excellent choice for any modern woman. Best of all, if you decide years from now you don't like rose gold any more, you won't be out thousands and thousands of dollars!
For the Romantic Woman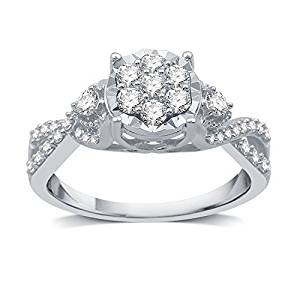 Price: $93
The clustered center stones, the side stones, the intertwined strands of the band- wow! This is one of our favorite engagement rings we found, and we still cannot believe it is only $93. The wrapped band design makes this ring appear much more expensive, along with the numerous stones present all over the ring. The band itself is durable sterling silver, and best of all, this is another engagement ring that has real diamonds! The total carat weight for all of the diamonds is ½ of a carat, but you would never know it given the intricate design. This is a perfect engagement ring (for anyone!) but especially for the romantic woman who loves intricate design and round diamonds.
For the Vintage Loving Woman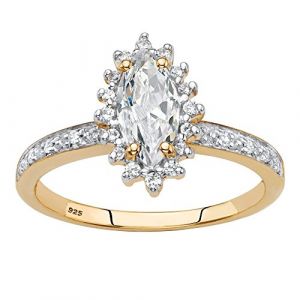 Palm Beach Jewelry Vintage Ring
Price: $82.49
Finally, plenty of women love vintage inspired engagement rings, but the majority of the time a vintage design is sure to cost a lot of money. At just $82, this ring is an absolute steal! The gold band and marquise cut center stone along with the halo of round diamonds gives this ring such a beautiful, vintage look. Best of all, the band is 18K yellow gold and the center stone is a beautiful white sapphire. The round stones around the center stone are also sapphire, but the side small stones on the band are diamonds! This ring is just as durable as a typical engagement ring and is suitable for daily wear. Best of all, it is a truly unique design that any vintage loving woman would love to wear.
We're sure you are in shock right now, but we promise, these rings are all available for under $100! If you are looking for ways to save money, an engagement ring is an excellent place to consider cutting costs, without having to cut style. These rings look just as beautiful as traditional engagement rings and are just as durable. You are sure to shock all your friends and family when they find out the truth about these rings!
Pin for later