Guides on what kind of colors to wear to a wedding
last updated:
Apr 08, 2019
28570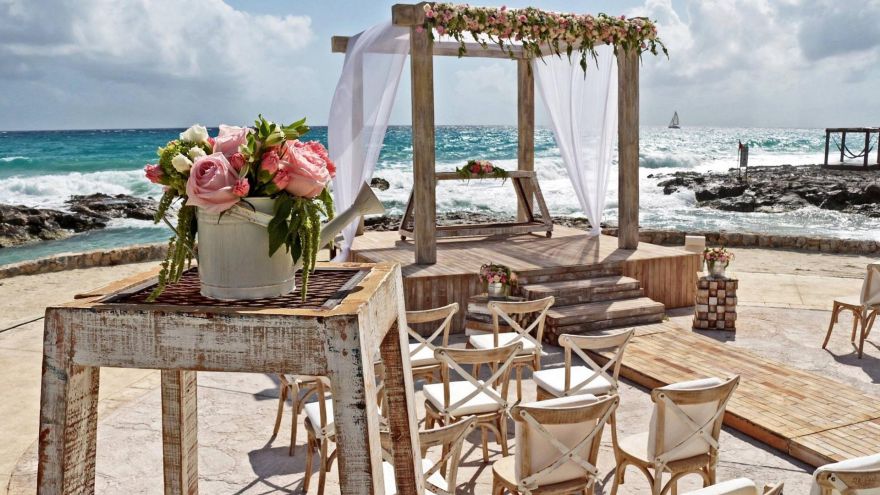 Weddings are a phenomenal time in everyone's life, whether you're the guests of honor or if you're simply attending a wedding for a friend or co-worker. The one thing that can be incredibly frustrating not only as a wedding guest but also as the bride or groom is to see people wearing colors that are typically inappropriate for such a formal event.
Aside from the other wedding etiquette tips that you have to follow, such as not assuming you can bring a date, it's also important that you consider your color selection for your wedding outfit. In this guide, we will help you to choose the perfect outfit for the big day so you don't upstage the bride or be the person that everyone talks about for years after the wedding.
DO: Wear Pastels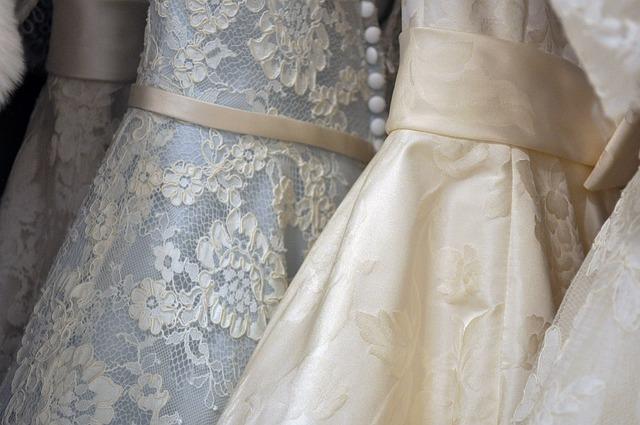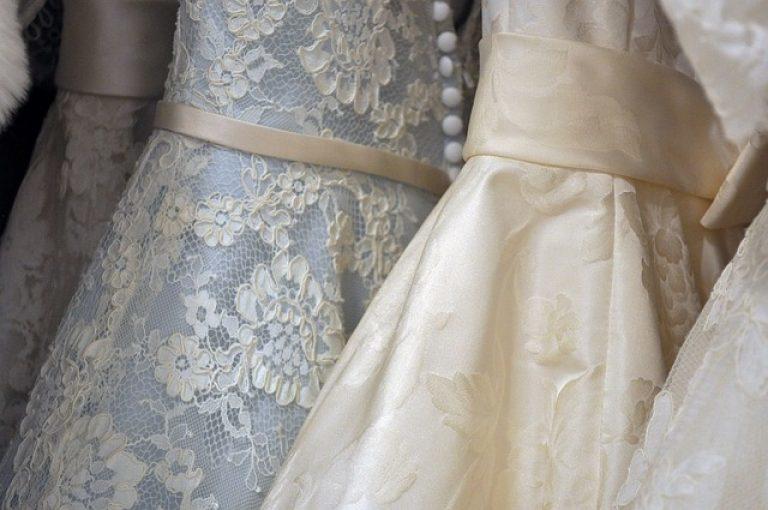 You can't really go wrong when it comes to choosing an outfit that falls within a pastel color palette. The best part is that pastels look great on any skin tone and you can find dresses in pale pink, light purple, pale blue, and sea foam green throughout the year. Pastels are a soft and warm way to show your support for the bride and groom, without becoming the focus of everyone's attention.
If you're not the type of person that likes to wear a dress or an outfit that is one solid color, you can always find attire that has pastel designs or prints. They're romantic, fresh, young, and hip. Plus, they'll fit in perfectly with any type of wedding décor.
DON'T: Wear White
As the most obvious rule to attending any wedding, it's best if you stay away from wearing white. In fact, we don't suggest buying an outfit with any white on it because it can easily take away from the beauty of the bride. The whole idea of a wedding is to watch the union of the bride and groom, not to be distracted by the vision of a guest wearing the same color as the guest of honor herself.
The only time that there may be an exception to wearing white to a wedding is if the bride requests all of her guests to wear the same color. Otherwise, don't even think about buying any type of outfit that will come close to resembling what the bride will be wearing on her special day. This doesn't only apply to diamond white or a brilliant white, but also off-white and vanilla.
DO: Wear Seasonal-Appropriate Colors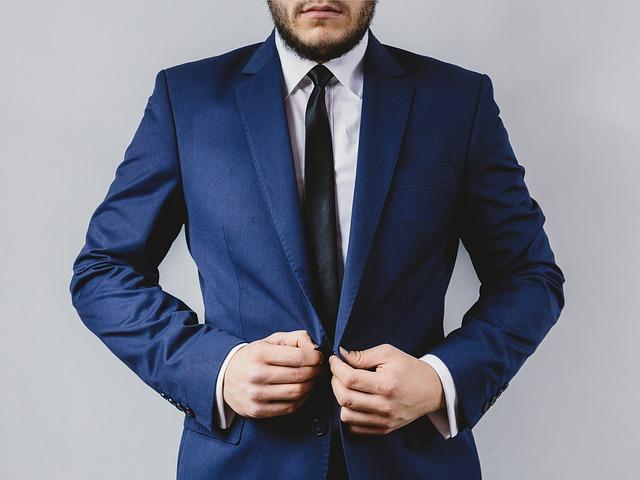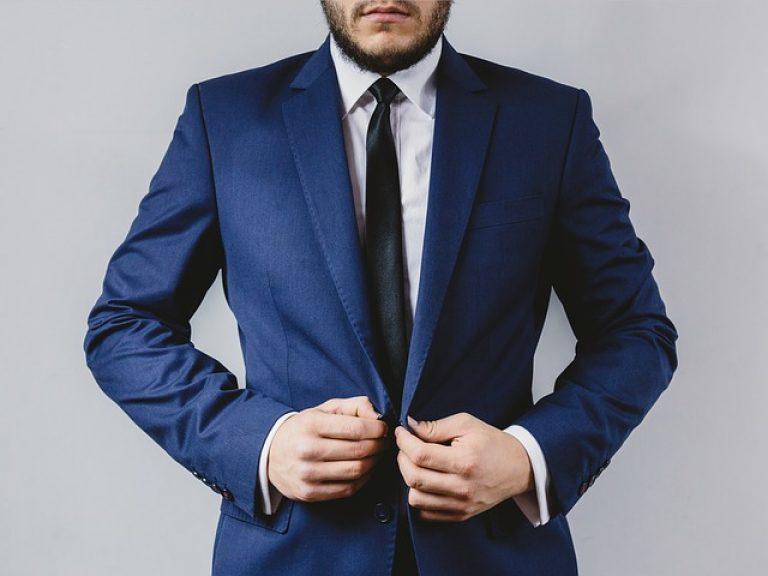 If you're not the type of person that's interested in wearing pastels and you still can't figure out what colors to choose for your outfit, it's always easiest to choose a dress or suit that fits into the season. For example, if the happy couple is getting married in the fall you can choose from deeper colors, whereas if they're getting married in the summer you can opt for more vibrant colors. The best part about dressing for the season is you can easily find a variety of pieces from major retailers that fall within the perfect color palette.
Most people can look phenomenal in deeper shades such as navy, burgundy, and burnt orange. You'll also find that the majority of wedding appropriate attire will be available in these colors, which makes finding the perfect dress or suit easier than you could ever imagine.
DON'T: Wear Black
Even if you're dabbling in the idea of choosing a darker color to wear to a wedding it is important you try to avoid black at all costs. There are two main reasons as to why it can be seen as poor taste to wear a black dress or an all black suit to a wedding. First, the groomsmen will most likely be wearing a black suit, which can make it difficult to differentiate them from other guests. Second, some black outfits can remind people of a funeral and since you won't be grieving the loss of someone in your family, it's best if you stick to happier colors.
There's nothing that says, "I don't agree with this marriage" more than an all black dress or suit, especially if the outfit is designed to look older and traditional. There are certain circumstances when you might be able to get away with wearing black, such as if you find a modern cocktail dress. You'll also want to make sure that you don't resemble the wait staff; otherwise, you might make yourself look out of place.
DO: Wear Similar Colors to the Wedding Theme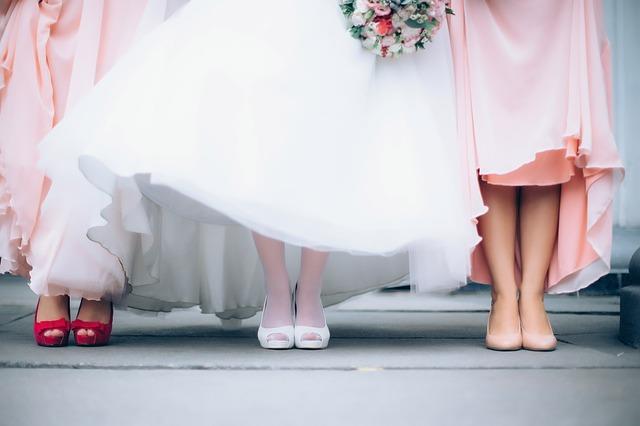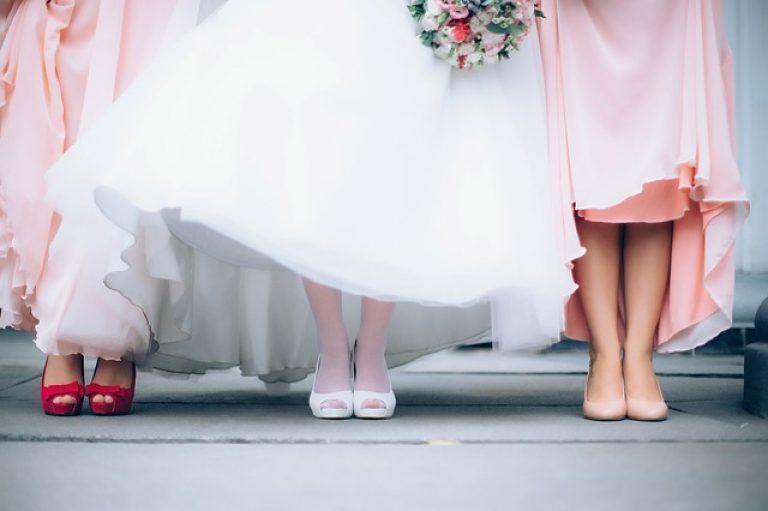 If all else fails, all you have to do is ask the bride what colors she's planning on using for the wedding and you can buy a dress within the same color family. For example, if the bride and groom have settled on a black and navy blue theme, you can always find a dress that is cyan or turquoise. For men, it can be a great idea to find a dress shirt or tie that is within the same color family.
If you're not close enough to the bride to be able to ask her what the wedding colors are, take notes from the invitations they send out. The majority of couples will typically choose invitations that fall within the color scheme of the wedding to help guests plan what colors they should be wearing.
DON'T: Wear the Same Colors as the Bridal Party
Although it can be a great idea to find colors within the same general family, it's imperative you do not wear the same colors as the bridal party. The best way to figure that out? Pay attention to the invitations! For example, if you receive an invitation with forest green accents, you can guarantee the bridesmaids will be wearing some variation of forest green. When you choose an outfit that is the exact color as what the bridal party is wearing, it not only takes away from the bridesmaids and groomsmen, but it can also be quite embarrassing!
There are plenty of things to think about when you're getting ready for a wedding, but one of the most important is to make sure you choose an outfit that will help you seamlessly blend into the event.
Pin for later