Engagement Photo Outfits Tips and Ideas!
last updated:
Nov 25, 2019
5386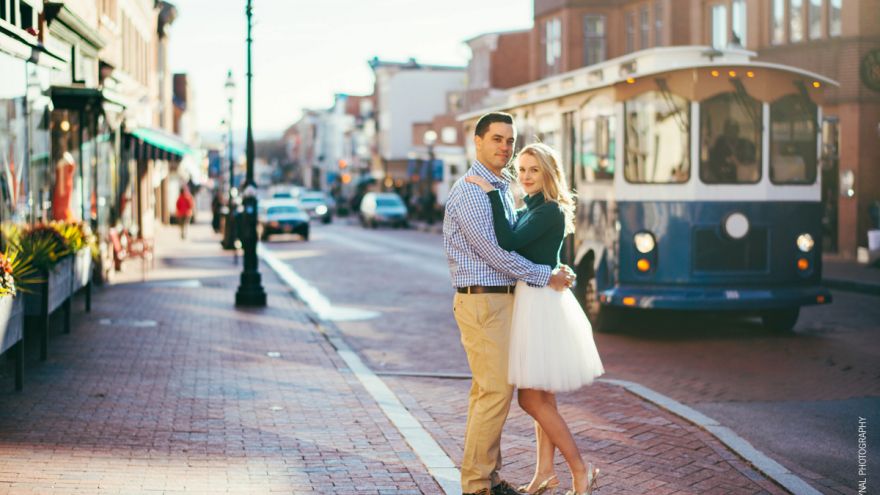 A lot of couples choose to do engagement photoshoots before their wedding. Most couples do engagement pictures either for enjoyment or to use for their save-the-dates.
Even though it will be an event filled with laughter and love, you'll need to pick the perfect engagement photo outfits. Depending on the type of aesthetic you want to achieve, it can be tough to find the perfect outfit.
With the help of this guide, we'll point you in the right direction for you and your soon-to-be spouse, so you two both look your best.
General Tips for Engagement Photo Outfits
First and foremost, let's go over some general tips that can help you pick the perfect things. More often than not, your photographer will give you an idea of the type of fabrics and colors they'd like to have in the pictures.
This help should make it much simpler to pick the perfect outfits. However, there are certain things you'll want to make sure you have, such as complimenting (but not matching) outfits and pieces that make you feel like you.
✓

Tip 1: Finding Complimenting Outfits

The goal of your engagement photo outfits is to look like there's a cohesive flow to them. But you will also have to make sure they don't become too overly matching.

For example, if you are opting for a country setting, you won't want to both wear the same flannel shirt.

Your best option is to find colors that complement each other and stick to solid prints. Anything that has a busier print will only be seen as distracting, which can take away from the beauty of a photo.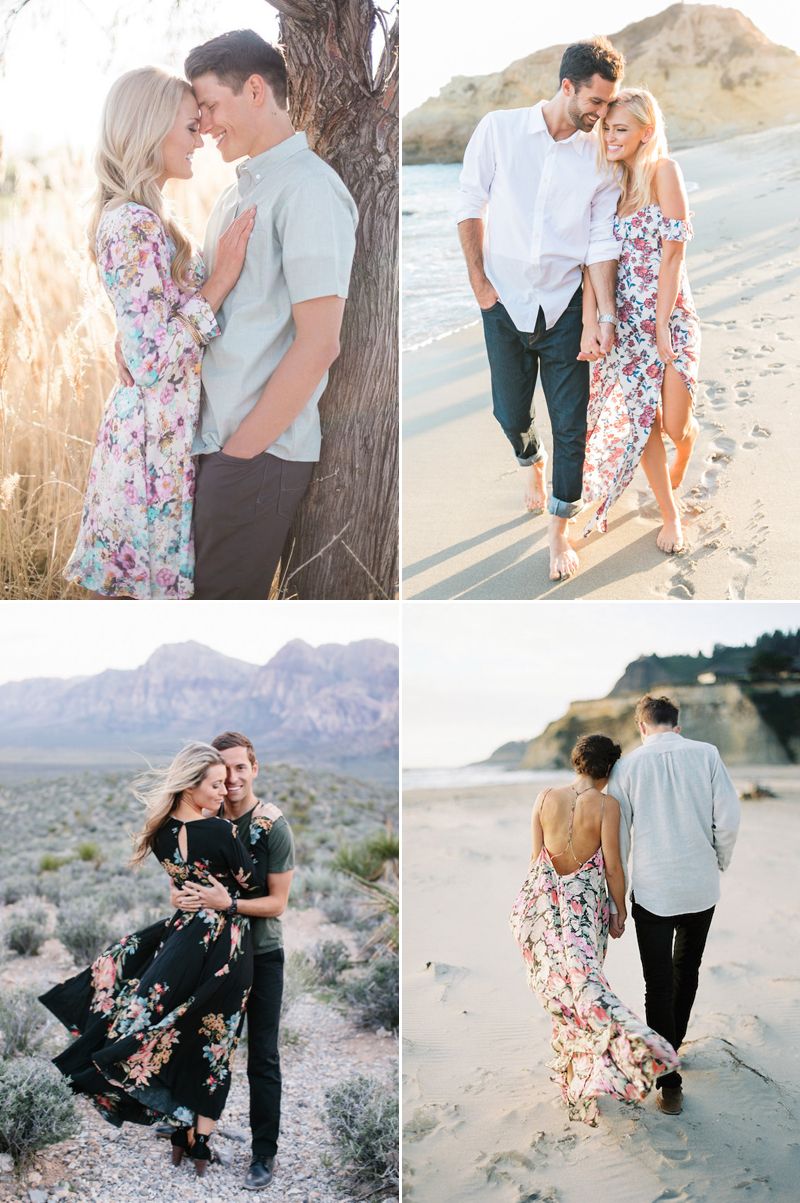 You'll also want to make sure your outfits work with the area where you'll be shooting — for example, opting for neutral-colored outfits if you have a bright background and bright outfits with a dark background.
✓

Tip 2: Dress Like Yourselves

The entire premise behind your engagement photo shoot is to show your personalities coming together as one. With that said, you'll want to choose outfits that are iconic to who you are, and that makes you feel comfortable.

Having numerous photos taken by a stranger can be awkward enough, you'll want to make sure you don't have to worry about your wardrobe as well.

Couples who typically wear jeans and sweaters shouldn't opt for highly formal outfits, as you won't feel comfortable, and it'll show in your photos.
✓

Tip 3: Set a Color Scheme

You'll likely spend your time putting the photos together in an album or displaying them around your house.

You won't want pictures with a ton of different color schemes posted next to each other; otherwise, there won't be any cohesion.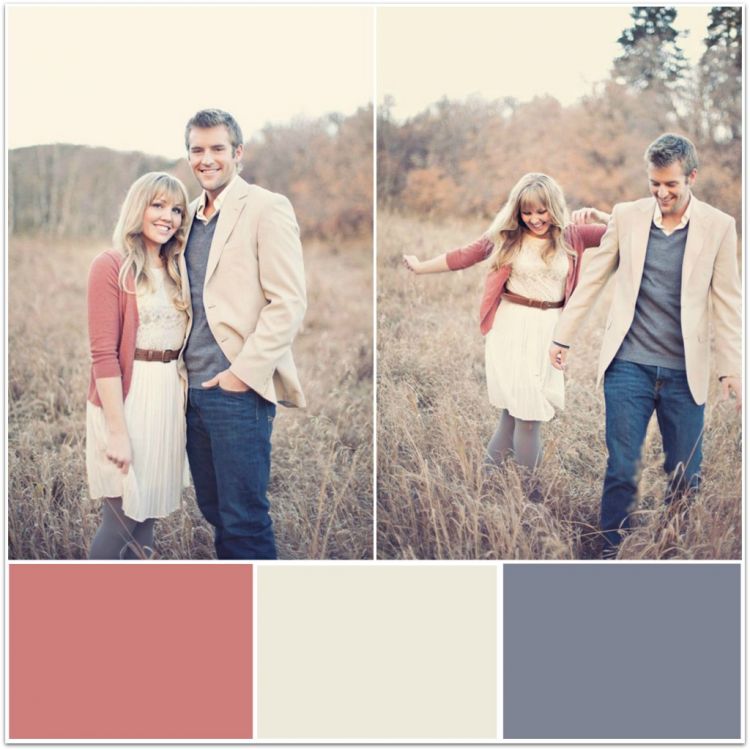 The finished product should look like a story told through the eyes of the photographer, and every image should work perfectly together.
Choose a color scheme that you want to stick with, such as hues of blue or grey, and then ensure your outfits work with your chosen theme.
✓

Tip 4: Choose Classic Pieces

You might be tempted to choose pieces that are hip and trendy right now, but how will that translate when you look at your engagement photos one to two years from now?

Instead of opting for fashionable pieces that look great today, pick things that are more classically beautiful.

You'll also want to avoid choosing items with giant logos and slogans on them, as it will take away from the luxury of the pictures.

Don't be tempted to take out your favorite black and white striped blazer, and instead, opt for solid black or something a little more timeless.
✓

Tip 5: Pick Three Outfits

When you're paying for a photo shoot, it can be tempting to have dozens of options available to you.

Especially if you're the type of person who thinks you'll want to change your mind on what to wear the day of the pictures.

Limit yourselves to three outfits each, as it won't be too overwhelming, and you won't have to change too often.

You'll want to talk with your photographer to determine what locations they have scouted for the event beforehand.

You can then plan your outfits accordingly to make sure you have the perfect number of pieces for each picture.
✓

Tip 6: Use Seasonal Accessories

If you're planning the photos for a specific time of year that you love, why not opt to play up the pictures with a few seasonal accessories?

For example, using a plaid blanket for a fall or winter engagement photoshoot. It will help to add a pop of color to the images and also contribute to the time of year.

This point is especially important for winter, as most greenery outside will be dead or dying, limiting the amount of color in each of your photos.
Our Favorite Picks for Engagement Photo Outfits
Now that you have an idea of all of the best tips that you can use to pick your own clothes, allow us to help you with even more inspiration.
All of the below items would work perfectly with numerous engagement photo themes, whether you want chic and dapper or cozy and comfortable.
The best part is that they're affordable, too, so you'll easily be able to pick multiple outfits that you can pair together for one cohesive theme.
Chic and Dapper
There's nothing better than showing off your more cosmopolitan side, especially in your engagement photos.
If you and your significant other are known for your high-fashion appeal, these two outfits are a phenomenal choice to have on hand. Not to mention they're both easily adaptable to numerous occasions!
For Her: MUXXN Retro Pencil Dress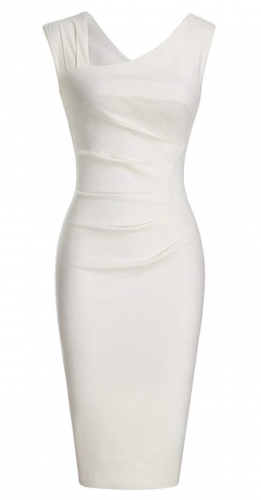 The sleek and stunning silhouette of this dress is undoubtedly what sets it apart from other bland cocktail dresses.
It also has numerous retro elements to it, such as the pleated sleeve and the feminine ruching down the entirety of the dress.
Available in multiple colors aside from white, it will hug all of your curves perfectly.
For Him: Kenneth Cole REACTION Slim Fit Suit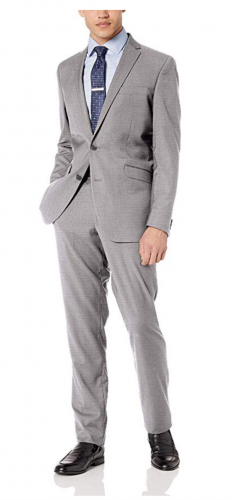 You can't go wrong with a business suit when dealing with formal photos, and this design from Kenneth Cole is fabulous for engagement photos.
With a more business-casual style than a traditional three-piece suit, you can look dapper without being too over the top.
We also love the basketweave fabric that adds texture to the outfit, so it doesn't look traditional and typical.
Cozy and Comfortable
Perfect for fall and winter engagement photos, sweaters will become your best friend. With chunky knits and oversized sweaters, you can add even more depth to your photos without having to piece together an entire outfit.
The two sweaters we've selected are ideal for pairing with some skinny and relaxed jeans for you and your soon-to-be spouse.
Cozy and comfortable is the best option for many couples, especially if you want your photos to have a more homely appeal.
For Her: Asvivid Chunky Knit Pullover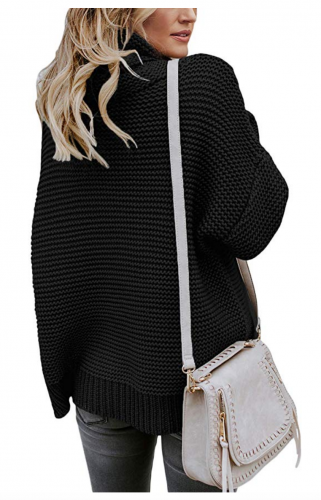 This sweater has a lot to offer, as it looks phenomenal on any body type and is sure to keep you warm. The chunky knit fabric works together perfectly with the bulky turtleneck.
This piece captures everything there is to love about the fall and winter. It also comes in numerous colors and styles, making it much easier to find the perfect one for your engagement photos.
For Him: West End Knitwear Cardigan Sweater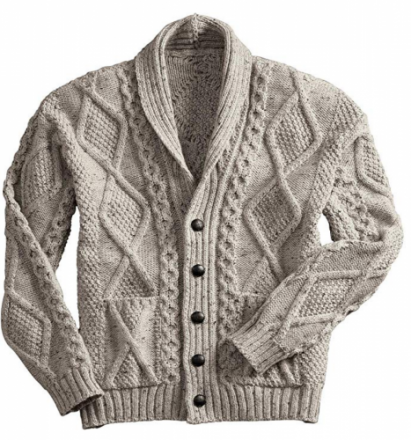 If there's one thing to be said about this cardigan sweater, it's that it screams holiday season.
Crafted from 100% pure Merino wool, this highly luxurious piece is made in Ireland and will add an ounce of luxury to your photos.
It works perfectly with more formal or casual accessories as well, which should make it comfortable and easy to use for your pictures.
Outerwear Flair
A common theme amongst most engagement photos is to embrace the weather that you're in, and if you opt for a colder month to have your pictures taken, this is for you.
There are numerous ways you can use outerwear to your advantage, especially if you're trying to have adorable pictures to look back on.
These two coats can be paired with formal business-casual outfits or more laidback outfits, which is why they work so well together.
For Her: Levi's Wool Plaid Sherpa Top Coat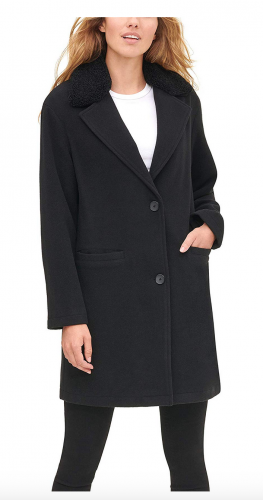 Levi's is known for its high-quality products and attention to detail, especially with this topcoat.
With a beautifully feminine silhouette and a gentle plaid design on the wool fabric, it will show off your best features without being too bulky. There is also a dual button enclosure on the front if you want the jacket to be the focal point of the photos.
We especially love the sherpa collar; however, it is fully removable if you are looking for a more sleek and modern aesthetic.
When paired together with the coat we've selected for your significant other, the two of you will look stunning.
For Him: London Fog Signature Wool Blend Top Coat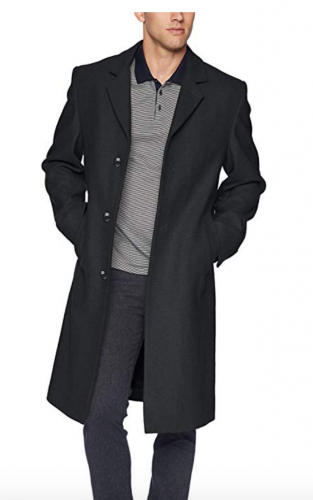 You can't go wrong with a London Fog jacket, especially this one, as it has a classic silhouette that transcends through the ages.
It's a blend of 60% wool, 30% polyester, and 10% rayon, so you can easily pair it with numerous other fabrics. There's something about this coat that speaks volumes for men of any age.
Warm and Summery
Not everyone is interested in having their engagement photo outfits revolve around the fall and colder months.
This point is especially true when summer has some of the most brilliant colors that you can use to your advantage.
With the right summery outfit, the two of you can capture the vibe of the moment. Each picture will resemble the heat of the sun and the excitement of the days to come.
We've selected two fantastic outfits that you'll be able to wear more than once, and that will look great together.
For Her: BerryGo Deep V-Neck Floral Dress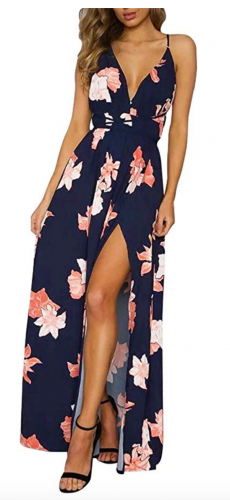 Minimalistic prints work perfectly for the spring and summer. This maxi dress has all of the most feminine qualities you would expect from a stunning piece that you can wear for formal and casual occasions.
With a plunging v-neck, strappy back, and a flowing and elongated silhouette, it's just what you need. We also love the added ounce of sexiness with the help of the slit at the side.
For Him: Pengfei Linen Casual Shirt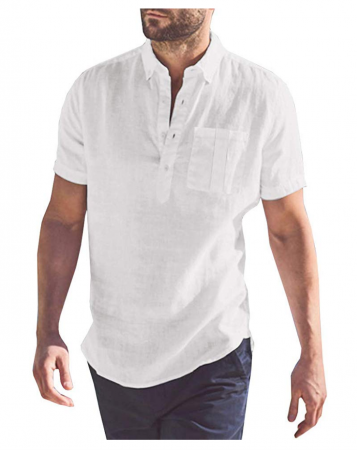 Linen is a beautiful fabric for men during the summer because it captures the true essence of warm weather and sunny beach vacations.
This linen shirt is exactly what you need to compliment a beautiful summer engagement photoshoot. Paired with linen pants, you have the perfect beach themed engagement photo outfits that you can put to good use.
Modern Couple
As the last pair of engagement photo outfits to recommend, these are two pieces that would look absolutely fantastic when paired together.
If you're a rather modern couple, you'll want sleek and straight silhouettes that compliment your best features.
For Her: KOH KOH Cape Mini Dress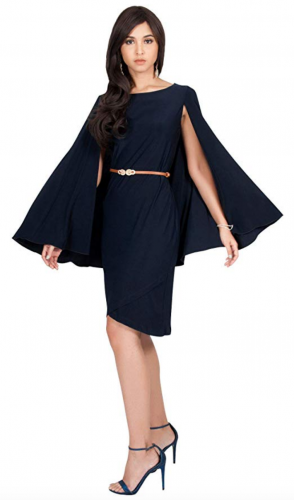 If you're looking for something different that will pay homage to the elegance of your wedding dress, this mini dress is just what you need.
With stunning cape sleeves, you'll have a lot of movement and softness in each of your photos. Available in numerous colors, this sleek and stylish dress is excellent for various occasions.
For Him: Cloudstyle Men's Three-Piece Suit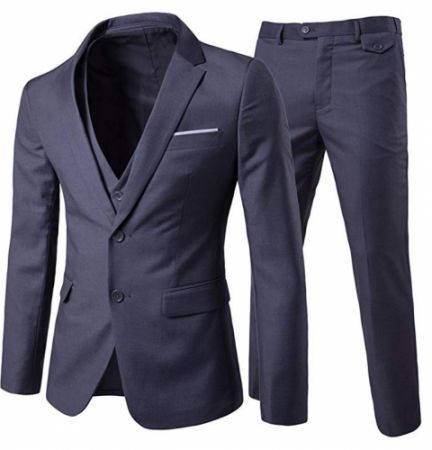 With a modern and slim fit, this suit is an excellent option for a modern man searching for a highly fashionable outfit.
It's chic and classic, but also shows off your great sense of style as it's fitted in all of the right areas.
In the set, you'll receive a four-button vest, a specialty suit jacket, and a pair of pants.
Finally…
When you're choosing your engagement photo outfits, you'll want to find items that work together to show off your personalities and the love you have for each other.
You can easily pick things that you already have in your closet, or opt for something a little different and new.
There's undoubtedly something for everyone in this guide so that you can make your pictures as beautiful as possible.
Pin for later