This product is listed here: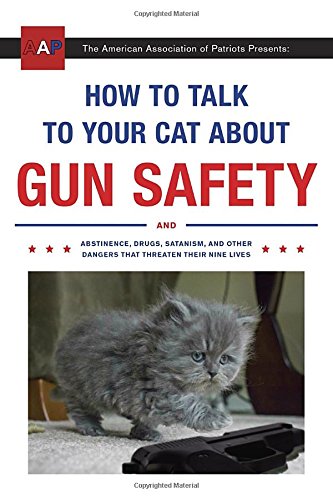 How to Talk to Your Cat About Gun Safety: And Abstinence, Drugs
Have you talked to your cat about gun safety yet? Maybe it's time, but how do you start the conversation? This book, as helpful as it is hilarious, coaches your feline friends on how to deal with many hazards they may encounter during their nine lives. A humor book for the modern kitty's life, this book is penned by Zachary Auburn, a self-proclaimed geek, artist, and writer with a family of fur babies of his own.
Who better to offer advice to our feline besties? Humans aren't the only ones with stresses and worries in this modern age—for the first time the stress plaguing cats is addressed with assistance in How to Talk to Your Cat About Gun Safety. It can be read from start to finish or as individual chapters at a time, depending on the issues concerning your cat at the moment.
Detailed information about How to Talk to Your Cat About Gun Safety: And Abstinence, Drugs
When you pick up a copy for yourself, don't forget to get another one to give as a geeky and entertaining gift for anyone in your life who appreciates cats as much as you do. Cats of all walks of life are sure to appreciate the advice that they receive from this hilarious volume. Important lessons are imparted on its pages, including the dangers of catnip and how to keep safe from online predators.
This book of veiled political satire is sure to keep you and your cat companion rolling on the floor laughing all night long. This book can help you approach all of those delicate concerns with your cat that you've been putting off—if you can get them to stick around long enough to listen before needing a cat nap. Whether you're concerned with cat abstinence or how to discuss the changing political climate with your kitty, this book can help you do so in a hilarious fashion.