This product is listed here: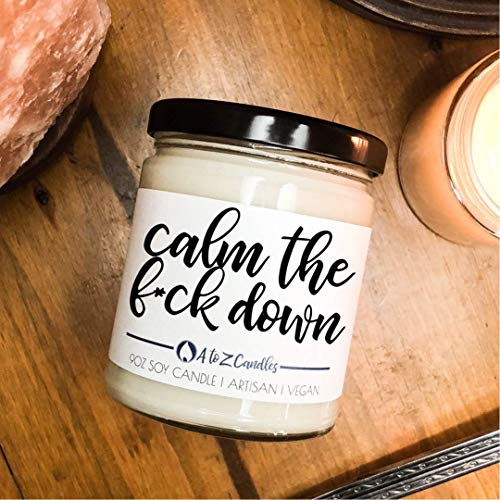 Calm The Fuck Down Soy Candle
Wow, who couldn't use this to brighten up their day?!? I'll bet that you can literally think of dozens of people that you could give this candle to. We all have at least one person in our lives who could benefit from the message that this gift sends, maybe even ourselves. Sometimes it takes a loud wakeup call to get someone to "Calm the Fuck Down." What better way to convey that message to your "type A" friends than with this lovely and exceedingly to the point candle.
This product is bound to be a surprisingly welcome gift for that person we all know who is always running at a million miles an hour! Let them (or yourself for that matter) be transported to a peaceful space with the aromas of the candle. Sit back and just imagine the soothing serenity that will bring a smile to any face!
Detailed information about Calm The Fuck Down Soy Candle
This candle does it all; calming influence, check. Smells great, check. Makes you laugh, absolutely! The key to successfully de-stressing is to never take yourself or events too seriously, and with this gift, you can be pretty sure that won't be a problem. This is sure to bring a smile to even the most stressed out person you know!
WHY WE LIKE IT?
Self-trimming cotton wick for minimal upkeep
Burn time of at least 90 hours for many evenings of blissful serenity
Beautiful and tranquil sage green color
WHY WE dont LIKE IT?
None
What we love about this product
All it takes is one sentance to make you Laugh and a candle to calm you down. The perfect item to just make your day a little brighter.