This product is listed here: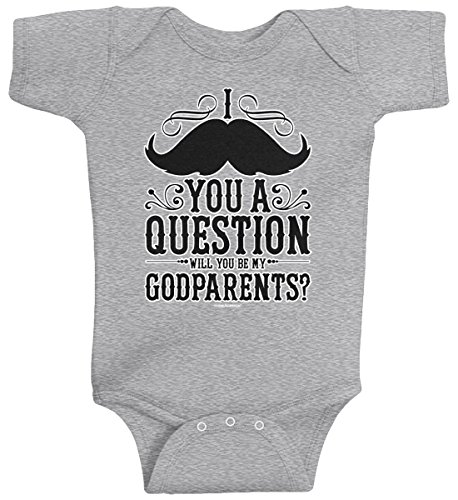 Threadrock Baby Boys' Will You Be My Godparents Infant Bodysuit
This might just be the most adorable way ever to ask a couple to be your child's godparents. Godparents play such an important and special role in your child's life and asking someone such a major question should definitely be a special occasion. You can turn it into a wonderfully memorable experience by using this adorable infant bodysuit to pop the question. What better gift could there be than to ask someone something so special? This is the kind of thing that really shows someone how important they are to you and how much you trust them. The bodysuit just makes it that much cuter and more fun.
Detailed information about Threadrock Baby Boys' Will You Be My Godparents Infant Bodysuit
This design is a Threadrock brand exclusive and really just couldn't be any cuter. The design on the onesie starts off with the word, "I" followed by an image of a mustache that is then followed by the words, "you a question.". So, together, it reads, "I mustache you a question". It is very funny and adorable. Following the cute little pun, the question: "Will you be my godparents?" is printed on the lower half of the bodysuit. The entire image is professionally printed onto the bodysuit in black and includes subtle and cute design aspects throughout the design around the lettering to help bring the whole thing together nicely.