This product is listed here: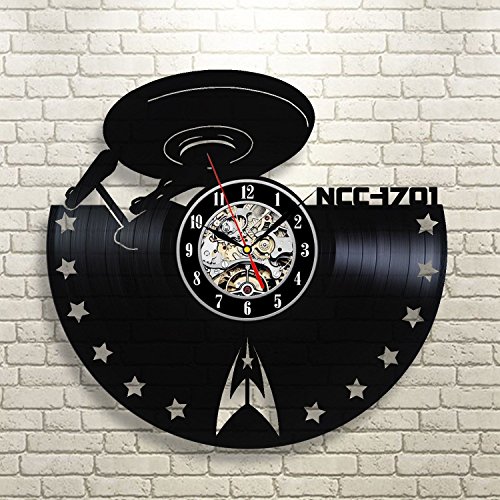 Star Trek Vinyl Record Clock
The iconic USS Enterprise shape is perfect for use as a pattern in fashion, jewelry, and home accessories as it enables the Star Trek fanatics to decorate themselves and their homes with the symbols and designs that they love so much.
The item we are looking at here is a wall clock sculpted from a retro vinyl LP record. The design, so skillfully carved from the LP, is that of the USS Enterprise flying out towards the viewer.
Detailed information about Star Trek Vinyl Record Clock
There is also the Enterprise's call sign, NCC-1701, together with the arrowhead and star emblems of Star Fleet and the United Federation of Planets. In the inner circle of the LP are the traditional clockface numbers together with hour, minute and second hands.
This skillfully rendered retro and ultra modern home accessory is what any self-respecting Trekkie must have on their wall at home. Whether it is on display in the living room, kitchen or bedroom is completely up to the individual but wherever it is placed, you can be sure that it will stand out as one of the better pieces of Star Trek memorabilia.
WHY WE LIKE IT?
A unique combination of ultra-modern and retro designs
Ideal for the Trekkie to decorate his or her wall
Useful analog clock
Shows off the unique USS Enterprise profile
WHY WE dont LIKE IT?
None
What we love about this product
The entire piece is an unusual juxtaposition of ultra-modern Star Trek designs blended with a retro background of vinyl LP and traditional analog clock face. They are the two extremes of fashion yet are somehow linked.