This product is listed here: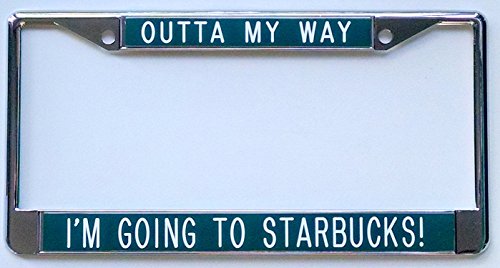 All About Signs Inc 'Outta My Way I'm Going to Starbucks!' Frame
It sucks to be stuck in traffic, at any time. But you know what sucks more? It sucks to be stuck in traffic especially when you haven't had your daily dose of caffeine!
And what better place to fill your caffeine need than Starbucks. Can't get enough of Starbucks? Just can't help but rush there to get your coffee or tea fix?
Let everyone know! Get this "Outta my way, I'm going to Starbucks!" license plate frame from All About Signs inc.
This item is a high quality, shiny, metal frame that fits any standard license plate with dimensions of 12.5 inches by 6.5 inches.
It sports a green background, and the words "OUTTA MY WAY" and "I'M GOING TO STARBUCKS!" emblazoned in all caps in white on the upper and lower part of the frame respectively.
A perfect Starbucks gift for the coffee aficionado in your life.
Detailed information about All About Signs Inc 'Outta My Way I'm Going to Starbucks!' Frame
It's a great way to personalize your license plate. Bet you didn't know that customizing your license plate was a way to show your personality. Well, now you do!
Show everyone your love of Starbucks (and more importantly, tell them to make way!) through this one of a kind license plate frame.
WHY WE LIKE IT?
Make a statement! Let everyone know you're a Starbucks lover and are proud of it
Personalize your license plate: take something that was once boring and ordinary and make it interesting and eye-catching
Get lots of compliments! You might get tired of people saying: "That's so cool! Where did you get it?"
WHY WE dont LIKE IT?
None
What we love about this product
Great news for Amazon Prime subscribers! If you have Amazon Prime, you can get this product in only 2 days! That's right! Get your order sooner than later!