This product is listed here: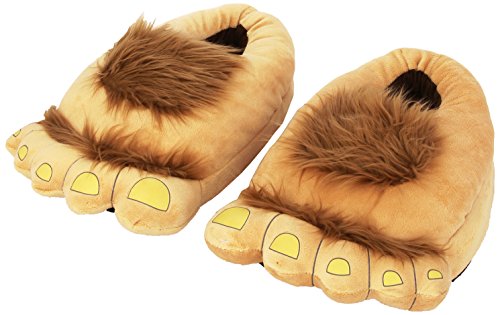 Think Geek Furry Adventure Slippers
Put on the furry slippers and you'll be as good as any adventures that may arise from going to the store or refrigerator or kitchen.  We assure you that the slippers are super comfy no matter your desired destination. You can be rest assured that these slippers are one of the most comfortable you can ever find in the market.
If you have ever heard of Bigfoot, then this furry beauties won't be strange to you. The slippers come looking like the cartoon feet of the legendary big foot. If you have any adventurer costume or any furry robe or pajamas, this slippers would serve as the best fit for them.
Detailed information about Think Geek Furry Adventure Slippers
These slippers give your feet  that hairy non-scary look. They instead make your feet adorable and lovely.
This slippers are just perfect for lazily walking around the house all morning. They give you the comfort and warmth most slippers can't afford. Many a times a lot of people have complained about getting slippers which are either too warm to the feet or just too soft to maintain good body balance. With this adventure slippers, you can rest be assured that you will get the best and a near perfect combination of warmth and comfort.
Adventure slippers further help to save you from the hassle of cleaning them. A damp cloth is enough to wipe stains off it. So you can no longer leave in fear of spilling any materials, drink or food on them. This slippers come easy to maintain.