This product is listed here: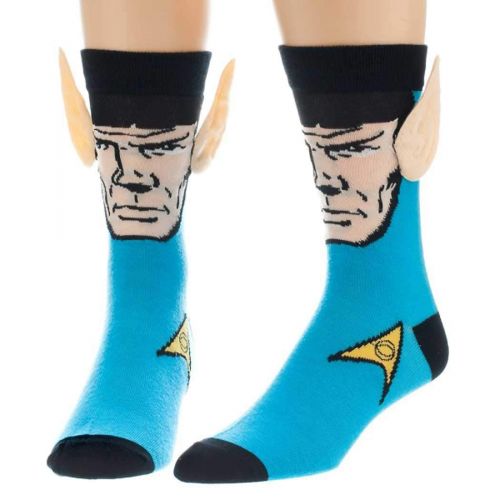 Star Trek Spock with Ears Crew Socks
Nearly half a century later, Star Trek franchise is still running strong with a mix of fans including the ones who watched the original series and the new generation that came with its incarnation; Star Trek Discovery. It doesn't matter which of the category the Trekkie belongs to, he or she still remains a diehard fan of the starship world and there are plenty of Star Trek-themed gifts, collectibles, and memorabilia enough to excite this bunch.
And here is a pair of Spock with ears crew socks that are awesomely geek and will be a delight to a Trekkie. The best thing about this gift item, it actually falls in under $10 category, so go ahead and impress the fan in your life and watch as the gift does its magic.
Detailed information about Star Trek Spock with Ears Crew Socks
These crew socks are officially licensed Star Trek product. They are made from 80% acrylic material, 17% nylon and 3% spandex to give them enough room to stretch. They are comfortable and will keep the feet toasty when the weather is chilly.
These are professionally designed crew socks featuring Mr. Spock who made his first appearance in The Original Series and became a favorite among the fans. At first glance, these socks may appear like regular socks, but the moment you lift your clothing, you reveal the ears which are the special feature that makes them awesomely unique.
WHY WE LIKE IT?
Quality crew socks with Spock' s ears sticking out
The socks are comfortable and fit as expected
These are an officially licensed Star Trek product
Available in different sizes
WHY WE dont LIKE IT?
None
What we love about this product
Cold feet are absolutely illogical in the space, so here is a chance to keep the Trekkie in your life warm. They might as well explore new worlds with the aid of Mr. Spock right on their feet! And well, we can safely say that a Spock merchandise is not complete without the ears and this pair of crew sock features Spock's Vulcan ears which hilariously stick out on both sides.