This product is listed here: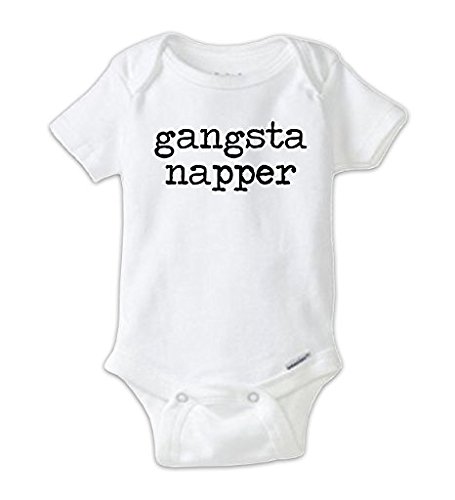 Juju Apparel Gangsta Napper Baby Bodysuit
Sometimes, it can be quite a task to find something unique as a gift for a small child. But, as much as they cannot comprehend what gifts mean, one can still get something useful for baby wear. From hats and bodysuits to shawls and pajamas, there are quite a number of items that would suit a baby as a gift.
Bodysuits are easy to select and come in different sizes to suit the age. Also, they come in unisex colors which make them great as baby shower gifts. This bodysuit from Juju Apparel is one cute piece and can be a lovely gift item for a small baby.
Detailed information about Juju Apparel Gangsta Napper Baby Bodysuit
The bodysuit comes in a bright white color and features a print saying, 'gangsta napper.' It has short sleeves to get the perfect fit for a baby this summer. The open design around the shoulders makes it easy to wear for a small baby without possibly hurting the head. It has enough room around the neck area for baby's comfort.
When it comes to how secure the bodysuit is, this one carries the day. It has the tack buttons to close at the bottom leaving enough room to fit the tiny legs. This bodysuit is designed to fit babies from 3 to 6 months. It can also work ideally for a newborn since they outgrow clothes pretty fast. These features make the bodysuit a beautiful gift for an upcoming baby shower or a new mum.