This product is listed here: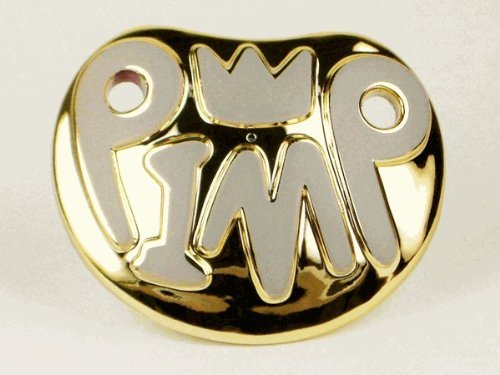 Billy Bob Playground Pimp Baby Pimp
You cannot exhaust all the options there is when it comes to getting a gift for a small baby. Think of cute little outfits, pre-walkers or simple accessories and toys. On this note, pacifiers can be a great gift idea, and you can be sure they will come in handy for a baby.
This Billy Bob pacifier has an attractive design and would be a lovely gift for a baby shower. It has a unique design and will suit both boys and girls. This is why this pacifier stands out from the usual ones.
Detailed information about Billy Bob Playground Pimp Baby Pimp
The design is what carries the day. As much as it is designed like other pacifiers, the details are unique and stand out. It comes with a gold finish on the top and is branded 'pimp' on the top. Also, the shape is curved for comfort as baby sucks it even for long hours. The pacifier is made using food-grade silicone with an orthodontic nipple.
More to this, the pacifier materials comply with the EEC Directive and other requirements for pacifiers. It is, therefore, safe for the baby without the need to worry about reactions and allergies that may come up. The pacifier is suitable for children from 3 months all the way up.