This product is listed here: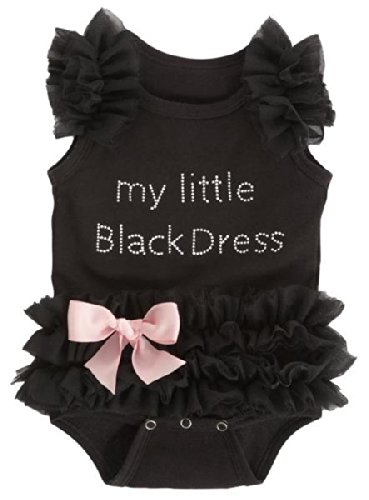 Embroidered Little Black Dress Bodysuit
This little baby girl's "little black dress" romper is a cute and hilarious conversational piece that you can buy for your little one. Just imagine the wonderful conversations you will have as people see the message and design of this awesome baby romper.
It has a snap enclosure on the bottom, which makes it easier to change your babies diaper without having to take off the whole onesie. It is also made from cotton, which is durable, easy to wash, and incredibly comfortable for your little one, so now you do not have to worry about the clothing being hard to wash. It is also black, which means that any stains made by your baby will be harder to see, and easy to wash out.
Detailed information about Embroidered Little Black Dress Bodysuit
The design is adorable, as not only is it a slimming black, but it also has ruffles and ribbons all over them. The "little black dress" type is written in white rhinestones on the front, that are securely placed to make sure your little one does not swallow any of them on accident. The little pink bow accentuates the outfit perfectly, making it an adorable outfit to put on your little one.
The size ranges of 0 months to 12 months, depending on which one that you have bought. The material is cotton, which makes it durable. Since it is a GANZ product, you can expect great quality.