This product is listed here: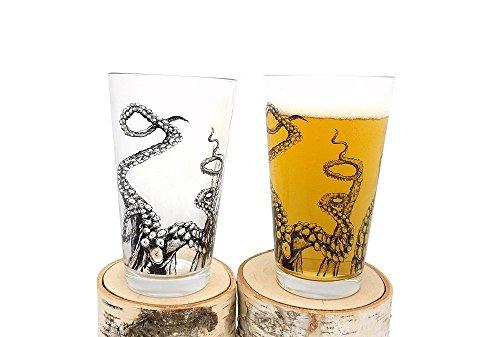 Black Lantern Pint Glasses
Give a cheery toast to your favorite beer lover with a refreshing ale poured into the beautiful Black Lantern Pint Glasses! These gorgeous beer glasses boast an original inky illustration of an octopus spreading its tentacles around the glass!
Detailed information about Black Lantern Pint Glasses
Starting from the bottom of the glass it drags you into the depth of your Belgian ale all the way up. The illustration itself is unique which will make a fine gift for the sea-faring adventurer in your life. Plus it also accents any bar.
This unique glassware fits right in quite well whether you'll be using them for beer glasses or mixing glasses. These nautically themed pint glasses will blend in just well as they are a perfect shape and size for a pint glass and they will make great mixing glasses as well. These screen printed pint glasses are designed to withstand a lifetime of abuse without losing functionality and ingenuity.
The 16oz. custom pint glasses are also great for weddings, birthdays, anniversaries or any special event like the Graduation Day.  The original illustration of octopus tentacles on these pint glasses really sticks out with their transparent background. Though they seem like specialty items, these should be a standard item in any barware collection. No matter you use them simply as pint glasses or use them for mixing different beverages, they will make every party an exclusive one and your barware truly exquisite. And they also make awesome graduation gifts.