This product is listed here: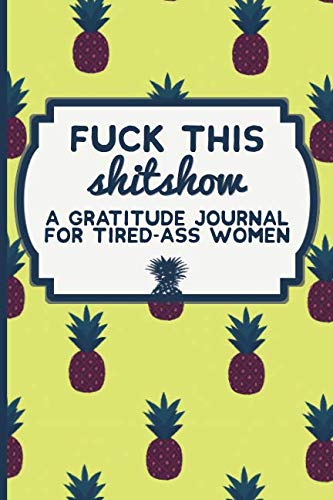 Fuck This Shit Show – A Gratitude Journal for Tired-Ass Women (Cuss Words Make Me Happy)
No matter how crappy her life is going at the moment, this journal from Crazy Tired Beetches is going to help to keep the smile on her face for months to come.
One look at the headings in this journal will definitely lighten her mood considerably, and once she starts journaling, well the sky is the limit.
This just might be the perfect gift for someone's 50th birthday or any birthday for that matter!
Detailed information about Fuck This Shit Show – A Gratitude Journal for Tired-Ass Women (Cuss Words Make Me Happy)
The Crazy Tired Beetches have once again come up with a journal that will keep any stressed woman out of the looney bin.
The various headings encourage her to look at the more poignant parts of her day and write them down not only for the cathartic benefit but for the sheer humor of it! Life is far too difficult if it is always taken too seriously.
This funny journal allows any woman the chance to put a little distance between her and her day and find the fun instead of the frazzle.
There are quotes that are funny and inspired, along with extra blank space for putting thoughts, emotions, and events on paper for posterity and later perusal.
WHY WE LIKE IT?
Over 150 pages of different headings meant for journaling daily activities and moods
Funny, snarky, caustic and therapeutic all at the same time
Perfect size for keeping in a handbag, a desk drawer or on or bedside table
WHY WE dont LIKE IT?
None
What we love about this product
"Fuck This Shit Show" has 152 pages of headings that allow the woman who uses this book to catalog the events of the day easily and conveniently; what was she most proud of "not" doing (maybe she is proud she didn't kill her boss).
There are also headings for her to chronical what she is happy about and what she feels she is lucky to have.
She can even rate her mood for any given day using the unique pineapple scale!