This product is listed here: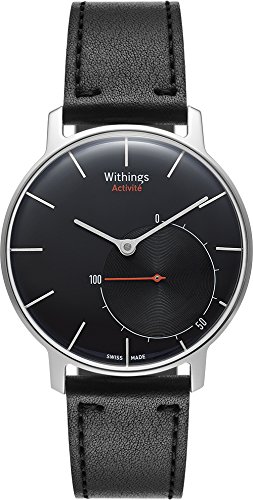 Withings Activité Sapphire | Activity and Sleep Tracking Watch – Swiss-Made
The Withings Activité unique smartwatch might just be what your loved one needs to keep track of their lifestyle and make healthy and balanced choices.
This stylish leather watch lets the owner keep track of things that matter most in their lives so that they can effectively improve their well-being, monitor their progress and aim for a better life with long term health benefits.
This is a new generation fitness watch, Swiss-made to accommodate the demands of our daily lives activities.
Designed in France by skilled Parisian designers, the Withings Activité combines time and activity tracking in one.
If you're looking for something special for your husband's birthday, this just might be the perfect gift for him!
Detailed information about Withings Activité Sapphire | Activity and Sleep Tracking Watch – Swiss-Made
On display, this watch has a track sub-dial that keeps track of your progress percentage-wise and lets you know how far or close you are towards reaching your activity goal for the day.
Whether you are running or walking, this smartwatch will seamlessly detect your movements and track accordingly.
This watch will collect all your activity data, including distance walked or ran, steps take and calories burned all day long. It will automatically upload all the information to the free Health Mate app via Bluetooth.
In addition, Withings Activité will also automatically detect when you are sleeping and keeps track of your sleeping patterns and cycles.
It also monitors the number of times you wake up in between your sleep and the duration of your sleep time.
All this will be uploaded through Bluetooth to the Health Mate App. You can even set the alarm the App, and the watch will wake you up on time to start your day.
WHY WE LIKE IT?
A unique and stylish Swiss-made smartwatch
Tracks activity including distance taken, steps and calories
Comes with a free app compatible with Android and iOS devices
Extra watchband
WHY WE dont LIKE IT?
None
What we love about this product
As the watch tracks your activity in real-time, the Health Mate app will use the data received to suggest changes throughout the day to help you move around easily and achieve your activity goals for the day.