This product is listed here: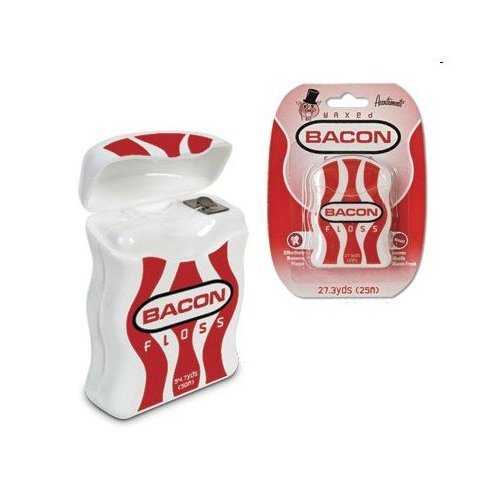 Archie McPhee Accoutrements Waxed Bacon Floss
Dental flossing is an important part of dental hygiene, one that should not be ignored. The processing of flossing removes food particles and plaque from between the teeth and improves the health of the gums so flossing is something that everyone should do. Knowing that it should be done and getting people to do it however are two different things. Flossing is one of the most difficult things for young boys and teenagers to get their head around so why not make their lives easier by supplying them with this cool gag gift? If they love bacon (and let's face it most boys and men do) then buy them this lovely little 'white elephant'.
This pack of Waxed Bacon Floss from Archie McPhee Accoutrements is the perfect gag gift for the man in your life. It actually works as a flossing material and really removes plaque from the teeth. It leaves the mouth as fresh as a bacon sandwich, so don't expect your man to have fresh breath afterwards.
Detailed information about Archie McPhee Accoutrements Waxed Bacon Floss
Each small plastic container contains approximately 27.3 yards (25m) of dental floss made from waxed recycled paper and is a great accessory to help make your son or boyfriend look after their teeth. Dentists recommend flossing every day, preferably after every meal and what better way to encourage this practice with floss that tastes like grilled bacon.
The floss comes in a handy plastic dispensing container measuring about 2.5" (6.4cm) high. It is small enough and so easy to carry around in his pocket or ruck sack. This is a 'must have' for those kids who have never grown up and like to have a bit of fun.
WHY WE LIKE IT?
Designed as a gag gift suitable for anyone who likes a bit of fun
Can be used as real floss to remove dental plaque
WHY WE dont LIKE IT?
Customer reviews suggest that the taste is disgusting and nothing like bacon while others say the opposite. This decision is for the user to decide
What we love about this product
Using floss will remove food from between teeth and prevent the buildup of dental plaque so why not make it a pleasurable experience as well by buying someone this bacon flavored floss.