This product is listed here: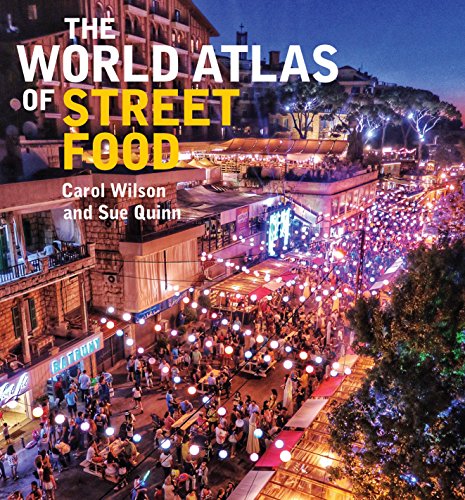 The World Atlas of Street Food – Hardcover
The World Atlas of Street Food is the perfect gift for a foodie who loves to travel. Especially if they love to travel and love to experience a local just as the locals do.
For anyone who is willing to take the plunge into the eateries that occupy parks and street corners everywhere, the eateries that the locals flock to the world over, then this beautiful hardcover food encyclopedia is the roadmap that the adventurous traveler needs to navigate their way through the gastronomic jungles of the world.
Detailed information about The World Atlas of Street Food – Hardcover
Today's travelers are beginning to appreciate the lure of "going native" and making their travel experience more authentic by allowing themselves to enjoy the local fare the way the everyday people do. Posh restaurants are generic by nature and not indicative of what the person on the street is eating.
These upper-crust establishments are not geared to total immersion in the offerings of the local culture, but rather they exist to insulate the traveler from the local cuisine, keep them cocooned away from the cuisine on the street.
Local street fare is what everyone is craving these days, and this book is the quintessential guide to finding the very best of it.
Whether in Cairo, New York, Patagonia or Hong Kong, no matter the continent or city there is always street food readily available.
WHY WE LIKE IT?
Written by Carol Wilson, a cooking consultant, and freelance writer, this book is a hardcover and has 400 pages
Beautiful and enticing full-color pictures from around the globe
Perfect for planning that next adventure
WHY WE dont LIKE IT?
None
What we love about this product
This street food guide is beautifully illustrated and gives great in-depth reviews on what amazing delicacies are available on the street corners of the world.