This product is listed here: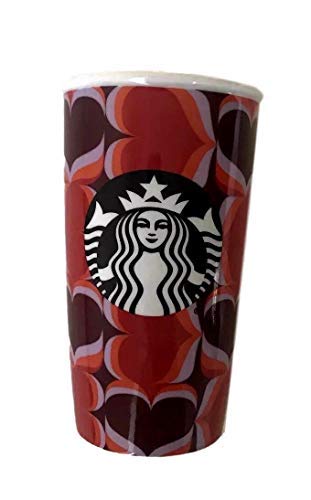 Starbucks Hearts Design Traveler Tumbler
Are you a coffee or tea person? Better yet, are you a Starbucks person? Do you need to have your coffee or tea on the go instead of having it in the coffee shop? Always running late but need a quick coffee or tea fix? Need a tumbler large enough to hold your coffee or tea?
If you answered yes to any of those questions, the Starbucks Hearts Traveler Tumbler is a great pick up for you or for someone in your life who enjoys coffee all throughout the day.
This Starbucks gift is perfect for the person who is always on the go. Ready to fill up and carry, this makes transporting your favorite drinks a breeze.
It comes with a plastic lid, making it perfect for going around with.
Detailed information about Starbucks Hearts Design Traveler Tumbler
The Starbucks travel tumbler tumbler is made of high quality ceramic. It is an excellent container for your drinks, be they hot or cold.
It holds 12 fluid ounces or approximately 350 mL of your favorite Starbucks coffee or tea.
That's a great way to measure how much you're drinking, especially if you're watching your caffeine intake.
Do your part in saving the environment! By using and reusing this tumbler, you reduce your paper cup and plastic cup and straw usage. That translates to less waste.
WHY WE LIKE IT?
Made of high quality ceramic
Holds 12 fluid ounces or approximately 350 mL
Environmentally friendly: reduce your waste by reusing this tumbler
WHY WE dont LIKE IT?
None
What we love about this product
The tumbler comes in a beautiful heart filled design. Perfect for those who like hearts, and perhaps a perfect gift to give to your significant other!