This product is listed here: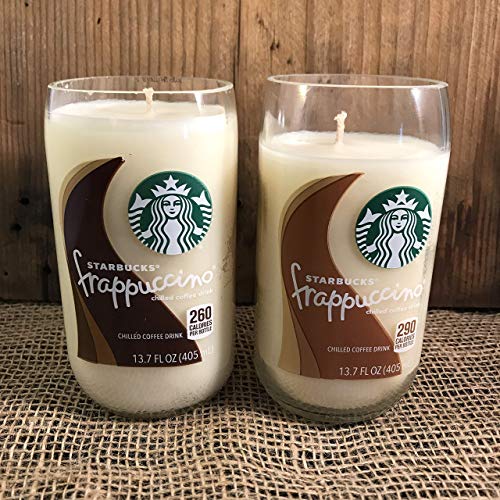 Set of 2 Scented Soy Candles/Mocha and Latte Scents
There is nothing as refreshing to a coffee addict as the aroma of freshly brewed coffee first in thing in the morning. It's enough to awaken their craving.
It makes them feel ready to face the day. It's an inviting scent, hard to describe, and perhaps it's only a coffee lover who can relate.
This is the aroma that welcomes you when you walk into a coffee house like Starbucks.
Now that we have mentioned Starbucks have you got a coffee addict who also happens to be a Starbucks' fan in your life?
If you do, you totally understand their coffee addiction and all things coffee. You also know that their love for Starbucks is here to stay and that its more of a lifestyle.
If this rings close to home, we believe they would be thrilled to receive a gift that fills their home with coffee love like this set of 2 mocha and latte scented soy candles.
If they love coffee so much enough to have several cups a day, they will definitely love the beautiful scents that come out of these candles.
They are heavenly and come close to the beautiful aroma of a freshly brewed cup of coffee.
Detailed information about Set of 2 Scented Soy Candles/Mocha and Latte Scents
What more, these two coffee scented candles come beautifully packaged in lovely glass jars embossed with the Starbucks logo and nicely labeled with the Starbucks iced blended coffee commonly known as Frappuccino.
The candles are handmade, and they are 100% soy candles.
They have a long burn time, which goes nearly for +50 hours and leave a lovely coffee scent in the room that lingers on for hours even after putting off the flame.
The gift pack comes with 2oz mocha and latte scented candles. They are designed to offer optimal burning experience.
WHY WE LIKE IT?
They have a lovely coffee scent
The candles have a long burn time
Handmade using natural resources and non-toxic fragrances
The glass bottles are reusable
WHY WE dont LIKE IT?
None
What we love about this product
And for the environmentally conscious person, they would be thrilled to know that these candles are made using phthalates-free fragrances and the soy wax is a renewable natural resource.
The candles are not only safe for home use, but also for the environment.